NIIKHIL BALLAL & JUILI KULKARNI
Founded by Late Shree Ashokbhai P. Shah, A.P. Shah Institute of Technology, under the able aegis of Chairman Shree Chiragbhai A. Shah has redefined the engineering education skyline of Thane. APSIT as it is popularly known as is governed by Parshavnath Charitable Trust, which was founded by Shree Ashokbhai Shah in 1993. Completing its silver jubilee in style last year, Parshavnath Charitable Trust is standing strong on its mission statement of imparting top quality education economically. APSIT, a product of the Trust started functioning in 2014.
Located in the supremely fast growing area of Ghodbunder Road, APSIT houses 30 air conditioned classrooms with state of the art infrastructure including smart boards. Emulating the footsteps of one of India's premium technical institutes; IIT Bombay, APSIT makes use of the popular interface Moodle. "Moodle is a one stop shop where students and faculty can upload their respective works. For instance, the faculty can put up their lectures, PowerPoint presentations, assignments, and tests on Moodle, and students can view the same, as well as appear for the tests online. Moodle is one of the best learning management systems that we have at APSIT", explained Shree Chiragbhai Shah.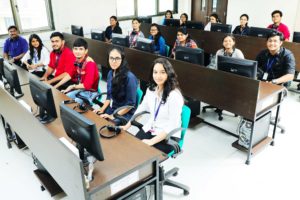 Additionally, APSIT makes available the lectures delivered in NPTEL (National Programme on Technology Enhanced Learning) platform. Typically it is observed that the professors at IITs deliver lectures on NPTEL, and making this rich content available to the students of APSIT is a phenomenal act.
A.P. Shah Institute of Technology is unequivocally one of the premiere Engineering Institutions in Thane district that houses five Engineering branches, namely, Mechanical, Civil, Information Technology, Computer, and, Electronics and Telecommunication. At present, 1600 students are studying at APSIT, with another 420 students expected to join in the new academic year.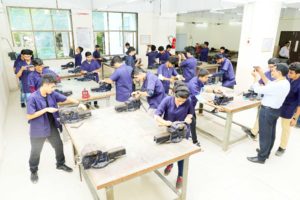 The core strength of APSIT lies in the top notch quality of education that is imparted by the well-qualified teachers. A healthy strength of 90 faculty members, including seven doctorates amplifies the level of teaching at the institute. In addition to this, there are frequent visitors from industry and academics who not only share their bounty of experience but also guide the students with respect to preparation for competitive and/or aptitude tests.  "The students at APSIT are really doing well in the competitive tests. They are already placed in IT behemoths like Wipro, Accenture, Hexaware, and L&T. Close to 45 companies visit us for placements and the feedback that we get from them is positive", exulted Shree Chiragbhai. Ali Mustafa, a student at A.P. Shah is one of the brightest minds when it comes to Artificial Intelligence (AI) and Deep Learning. Ali has already been invited to different colleges across the country to take courses on AI, and is also privileged to have received an invitation from an institute in the United Kingdom to teach the same.
What sets apart APSIT from its peers in Thane district is its well-equipped state of the art computer laboratory. With a whopping sum of over 600 computers, A.P. Shah is the much sought after place for conducting online tests for corporate selection processes. "There are seldom any weekends when we do not host a competitive test. For instance TCS partners with us for conducting its selection test", averred the Chairman. Apart from this, the other standout feature of APSIT is that it provides resources in the form of spoken tutorials (initiative of IITs) in several vernacular languages to the students, who are not that comfortable with English.
At APSIT, the uncanny question of attendance is unravelled quite ingeniously. "To encourage students to attend classes, we have come up with a novel idea. Among our students we have inculcated the incentive driven habit. The students having an attendance of more than 90% per semester will be awarded with a lucrative deal. These students will be presented with Rs. 1000 coupons which they can either redeem at the college canteen or buy stationery. So far, we have been successful in our objective of maximizing students' attendance", described Shree Shah.
Typically it is observed that engineering students undergo tremendous amount of stress, courtesy the academic pressure that they are subject to. In order to convert the stress into eustress, APSIT organizes panoply of activities which includes sports, cultural events, annual day, among many. "We at APSIT are cognizant about the pressure that a student goes through, and therefore, to help the students to rejuvenate and to make them feel better, we conduct a host of activities", explicated Shree Chiragbhai. One of the interesting things about this institute is that it encourages the students to organize the different events from start to end. Be it the background music, or photography, the in-house students do it all. APSIT also has a dedicated counsellor not only for the students but also for the faculty. "A counsellor is the one who can empathize with both, the students and faculty. Both these stakeholders reach out to the counsellor with their concerns and more often than not come out with a concrete solution which makes their lives better", added Shree Shah.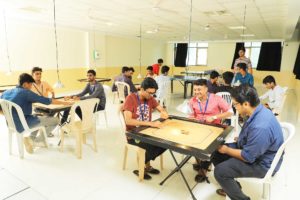 APSIT has been an enthusiastic host to various events like 19th ISTE (Indian Society for Technical Education) Faculty Convention, and various international research conferences. Last year, an intra-collegiate exhibition of students' projects was organized successfully and this year the institute wants to raise the bar higher with an inter-collegiate exhibition. The students of APSIT take active participation in social activities through the medium of Lakshya, a Social Services Team. "Our students extended help to Thane Municipal Corporation with respect to its DigiThane initiative", stated Shree Shah. Up next, APSIT will kick start the Communication Club considering the paramount importance of soft skills from career standpoint.
A.P. Shah Institute of Technology's journey has been nothing less than incredible. With its strong foundation it is expected that the institute will scale greater heights.