EarNesTly Yours
NIIKHIL BALLAL & JUILI KULKARNI
When there is a starved waiting dearly for food outside a restaurant, nobody expects a restaurateur to offer food. When a homeless is found wandering on the streets, nobody expects a builder to provide a home. But when there is an ill on the road, it is expected that a doctor treats the illness. Such is the divinity, nobility, and ofcourse the supposition that exudes from a medical profession.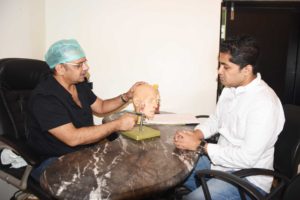 Add to this empathy, and there is seldom any doubt that empathy is one of the most powerful weapons in the repertoire of a doctor. Being in the business or rather let's call it service of treating people, empathy forms a quintessential part. "Children who are loved well by their parents, especially their mothers, grow to become empathetic individuals. They are equipped with the ability to love and give, and I feel blessed to have these abilities, which are the essential prerequisites of a medical profession", averred Dr. Ashesh Bhumkar.  It is possible to outsource knowledge, but emotions, you can't.
Hailing from a typical Marathi joint family, Dr. Ashesh Bhumkar, one of the most renowned ENT surgeons in not only Thane but across the world, set out on an inspiring journey over thirty years back. With no medical background whatsoever, his sheer determination to indulge in the noble and divine service of helping people ushered him to become a doctor.
Recollecting his childhood days, Dr. Ashesh reminisced, "As a child I used to fall ill frequently. My father used to take me to the doctor. During our visits I could vividly see the enormous adulation that my father had in his eyes for the doctor. Probably it was during my childhood that I decided to become a doctor, just to see the same kind of admiration in my father's eyes for me". Dr. Bhumkar added, "My mother always wanted to become a doctor. However, she got married at an early age and her dream was left unrealized. So, I feel it is my mother's dream and my father's adoration for doctors that drove me in taking up medicine".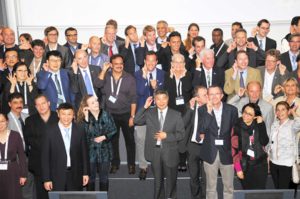 Before starting his independent practice, Dr. Ashesh worked in Pune for three years with Dr. M.G.Tepan. Under the able aegis of Dr. Tepan, Dr. Bhumkar blossomed into a skilled and professional ENT practitioner and surgeon. February 11, 1990 was the first day of Dr. Bhumkar ENT Hospital. "The feelings were mixed. The happiness of starting my independent practice was accompanied with the unrequired anxiety of being accepted in the society. My joy knew no bounds when I saw my first patient eagerly waiting for me on the very next day. It was an adrenaline rush, and no words can describe my feelings. Till date, she and her family visit me for their ENT ailments", elucidated Dr. Bhumkar.
When he was a nascent doctor, Dr. Ramesh Pradhan, one of the senior-most medical practitioners in Thane mentored Dr. Ashesh. "I feel fortunate to have got the opportunity to work with Dr. M.G.Tepan in Pune and then with Dr. Ramesh Pradhan in Thane. I have learnt a lot from these two gentlemen, and the sweet fruits of the tall tree that I am enjoying today are because of the strong roots that were developed by Dr. Tepan and Dr. Pradhan", expressed Dr. Bhumkar.
Running into his 30th year of serving people relentlessly, Dr. Bhumkar has spread his wings across the globe. He is often seen visiting different countries to perform surgeries. "I always want to be better than what I was yesterday. For this, I endeavour to learn from the best of surgeons around the world and practise the same to serve my people well", mentioned the ENT surgeon.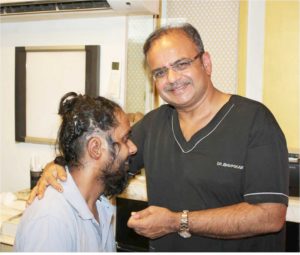 Dr. Bhumkar is one of the five ENT surgeons in the world who can treat Microtia, a deformity of the external ear. Not many doctors opt to learn the complex surgery procedure required to treat Microtia. Since, Dr. Ashesh is a niche player in this segment he has been called by many countries like Russia, Saudi Arabia, and Kazakhstan, to name a few to treat the patients suffering from Microtia.
On being asked about the stress that the doctors go through, Dr. Ashesh quickly stated, "I would rather say that medical profession is one of the very few professions that involves instant gratification. You see the patient, treat the ailment, and more often than not you are subject to immediate feedback. Therefore worrying about the future which is the cause of stress is ruled out in our profession". It is good to have ambition, but having an aspiration is better, because ambition is burdened by what you want to become, while aspiration is an easy going continuous flow.
Apart from his medical prowess, Dr. Ashesh Bhumkar is blessed with a lot of creativity. For instance, the table in his cabin and the handle of his cabin door are in the shape of an ear. "It is natural that monotony creeps in when you have to look at the patients day in and day out. I believe it is this monotony that triggers creativity. In my talks, I often discuss the Gillette syndrome. The moment you feel that Gillette is the best shaving kit available, it comes up with something newer and better. Similarly, what you can do now can definitely be done better later, is the moral of the story", explicated the ENT surgeon.
"Life is a celebration, and not a crisis. Creativity embellishes life and makes every ounce of it worth living", concluded Dr. Ashesh Bhumkar.