NIIKHIL BALLAL & KAMLESH PANDYA
Thane is a city that represents Maharashtra's cultural heritage as also the aspect of fast-growing business, with global overtones. Among the success stories of Thane, there is one which needs to be chronicled – the story of a simple boy who went on to achieve great heights. It is a story that needs to be told in the right perspective: the story of Rajan Bandelkar.
Supportive, helpful and a team player, Rajan Bandelkar is better known in the real estate fraternity as one who thinks 'out of the box' – and usually, achieves the goal. The introduction of any businessman starts with crunching numbers – in case of a real estate developer, it usually is about square feet of space constructed and the numbers of happy families residing in the completed projects.
Counted among the shining stars of Maharashtra's real estate industry, one who has achieved success through sheer hard work and passion is Rajan Bandelkar, Director of the Raunak Group. Having served on various posts across different organizations, he will now be taking over as President NAREDCO Maharashtra. It is a momentous journey which started with something very different from how one expects a real estate developer's story to be.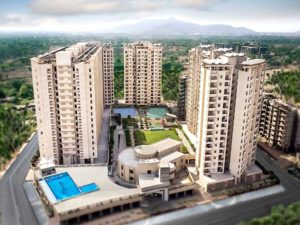 Unlike the perception and the 'image' of a real estate developer, Rajan Bandelkar comes across as Unique – for one, he does not aspire to live in the glory of past achievements. "It is how well we plan for the future, as also ensure that we execute those plans in the right way that defines a successful real estate developer, and helps the industry grow in the right direction," he says with a smile.
The past year has seen Indian real estate face the challenge of adapting to the new regulatory regime.  Post-RERA, most stakeholders in real estate see challenges.Rajan Bandelkar terms these as opportunities. "Indian real estate is adopting best global practices, the real estate transaction has become more transparent, the developer is accountable, andbuyers' confidence is getting enhanced. What better scenario would one want for Indian real estate, he asks. "It is not like the past," he says. Then, he takes a pause. "The past…."
As they say in Bollywood movies, it is flash-back time. Having constructed more than five million square feet of space, the Raunak Group is among the leading real estate developers in the Mumbai Metropolitan Region (MMR).  Rajan Bandelkar is quick to share the credit: "I owe my success to the people I met along my journey. Most were good people, who helped me scale higher peaks of success," he says. His work ethic is about doing business with honesty, and Rajan Bandelkar defines RERA as 'a welcome step'. "Maharashtra is the one state which has scripted the leading success story, MahaRERA has achieved more than any other state's RERA set-up," he points out. "But it works better for builders who operate ethically," he adds.
So, it is flash-back time. It begins with the rare and serious case of conjunctivitis which made him unable to appear for his HSC examination. "It was a challenge to be left behind as I had not appeared for the exam, unlike my fellow students", he recalls. Unable to sit quiet till the next opportunity to complete his education, he started working for an Octroi agent.  "I could sense that the person I was working for was unethical, which taught me life's first major lesson: to live by ethics and values of honesty, as also why it was important to be trustworthy to your customer," he says.
Going on to complete his Graduation, Rajan Bandelkar did something totally 'out of the box' – he helped a relative in purchasing a under construction house. Six months later, the house was sold – and the price appreciation over those six months meant the relative earned an envious return of 100 per cent. Double the money in six months was too good a business opportunity to pass up, and before long, Rajan Bandelkar was a part of the real estate industry. With the dream of buying land and building homes, in 1980, Rajan Bandelkar laid the foundation stone of his career and set foot in the real estate sector, that changed his life.
It was not smooth sailing for the young entrepreneur in the early days. "Business," he says, "is like driving a car. When we start our journey within city limits, the car's speed is slow, subsequently when one reaches the highway, the speed increases. That is a simple definition of success," he smiles. And yet, most of us tend to hand over the steering wheel to the driver, and then tend to relax. When one does this, the chances of accidents are arguably, high," he points out. Drawing a parallel with his real estate business, Rajan Bandelkar says the wheel of the business should always be in one's own hands- meaning that one should not let go of control, regardless of the speed.
Although he describes his endeavour into real estate as something that happened 'by accident', he says, whatever happens, happens for a reason, and the result is always positive. He refers to the people he met along his journey in business as 'friendly and helpful', who helped place him on the road to success.
In 1985, he entered into yet another challenging business – the food and beverage industry. Thane's most sought-after joint near the railway station – ALOK Restaurant, which introducedfirst softy ice- cream to Thanekars.  If real estate is all about getting the right composition of concrete, the restaurant business is about getting the right recipe. While this stage in his life had him face many challenges, a combination of thinking out of the box as also meeting the right people at the right time helped him move on successfully. "It is destiny that you meet the people who help you sail through the stormy weather", he says. It was destiny's call which steered the wheel of his career to re-explore his passion for building homes. In 1995, he set his foot on the firm foundation of real estate industry – RAUNAK GROUP.
It has been a stupendous success story – the Raunak Group has helped fulfil the dreams of over 6000 families, and has to its credit close to 50 projects. The Group has successfully made its impression on the canvas of real estate. "The growth of one's own company is a goal that has largely been achieved. Now, it is time to give back to the industry", he avers.
Having always been a 'team player' all through his career, it is in fitness of things that Rajan Bandelkar has become the first Thaneite and arguably, the first Marathi Manoos to take over the coveted position of the President of NAREDCO (National Real Estate Development Council) Maharashtra. This industry body, which comprises 500 builder-members from Maharashtra will function under his able guidance. He has to his credit some fabulous work done in the real estate sector for close to four decades.
The primary goal for Rajan Bandelkar, as President of NAREDCO, which functions under the aegis of the Union Ministry of Housing and Urban Affairs, will be to rebuild the fallen image and restore pride and respect to real estate builders and developers. "We are builders to the nation," he states with pride.
Apart from regaining respect for builders, the other focus areas for the NAREDCO President will include labour training and skilling as also doing one's bit for the environment by enhancing the green cover of Maharashtra.
"Problems and Opportunities are two sides of the same coin" elucidates Rajan Bandelkar. Over the years, he has done just that. "I have strived to convert each and every problem into an opportunity," he mentions. As we end this interaction, there is a twinkle in his eye. One wonders, what sort of 'out of the box' ideas will we see from the new President of NAREDCO Maharashtra.