A century of banking excellence celebrated by NKGSB last year, deserves appreciation and a round of applause. Sustaining a business for 100 years is no child's play and when you know that the business is regulated by umpteen numbers of regulations, the institution truly deserves kudos from one and all. Mr. Sunil Gaitonde, Vice Chairman of NKGSB bank tells us the interesting journey of this legendary bank to the managing editor of Know Your Town (KYT) Mr. Nikhil Ballal.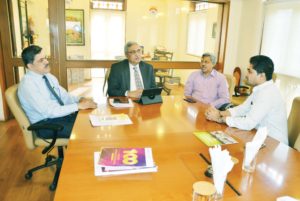 A small-town boy from Karwar founded North Kanara Gaud Saraswat Bank on September 26, 1917. Hailing from south Goa, Sheth Shantaram Mangesh Kulkarni established the bank with the main aim to provide financial assistance to GSBs (Gaud Saraswat Brahmin), who migrated to the land of opportunities; Mumbai.A credit co-operative society by the name North Kanara Gaud Saraswat Bank. The intention of the founder was good, but being in the divine business of banking, it is not fair for any bank to help just one community and close the doors to other needy communities of the society.The name of the bank; North Kanara Gaud Saraswat Bank was tweaked and the bank became popularly known as NKGSB, quietly opening the doors to other sections of the society. NKGSB is no longer a bank restricted to serving just one section of society but is a financial institution that serves all people, whether or not he/she is a GSB.
"In order to ensure efficiency and effectiveness in business, having a proper mix in the Board is an essential pre-requisite. NKGSB is blessed to have a strong Board. Its well-educated and well-diversified Board includes people not only from finance but also from different spheres of education. These members of the Board have tremendous experience in their respective fields and are determined to traverse the path of excellence. The Board comprises of 5 CAs, a Cost Accountant, an Economist, a Civil Engineer, an HR personnel, a lawyer, lady banker, and IT specialist, who has won the best CIO award for two years. Unequivocally, these are the pillars of strength for NKGSB and have played a pivotal role in taking the bank to a solid position" states Mr. Gaitonde.
From a modest beginning to multi-state presence, NKGSB has come a long way. The bank has spread its wings far and wide, and is now present in states like Maharashtra, Madhya Pradesh, Karnataka, Goa, and Gujarat, and Union Territories of Daman, Diu, Dadra, and Nagar Haveli. Out of the total 106 branches, 50% of the branches are in Maharashtra and the rest are spread across other states and union territories.
"As is the case with many, if not all households, the woman of the house is responsible for making monetary decisions. In the house of NKGSB too, women are majorly involved in the working of the bank. NKGSB is one of the very few banks that have majority of women employees. Out of the total employee base, 60% are women. It is very clear that the bank has a big deposit in the form of women employees.Apart from its usual business, NKGSB focuses on women empowerment by way of providing employment opportunities to the fairer sex", tells Mr. Gaitonde.
"With respect to co-operative banks in India, it is an unstated assumption that these banks are the bankers to the senior citizens pre-dominantly and belong to old school of thought. NKGSB,however, wants to be an anomaly. The 100-year old bank, just like the big public and private sector banks, believes in branding and advertising. The bank understands that to face the fierce competition, it has to break the shackles and indulge in suitable marketing strategies. NKGSB resorts to social events and uses those media to reach a wider audience", states Mr. Gaitonde.
"NKGSB is growing at an envious rate of 20% and has outpaced its peers. Last three years have been excellent for the bank, and with each passing day, the bank is growing in confidence, courtesy the stakeholders, who have stood like a rock in good and bad times", shares Mr. Nadkarni, CEO, NKGSB.
"The business growth (credit growth + deposit growth) of this co-operative bank is at a staggering level of Rs. 12,223 crores as of March 31, 2017. The bank aims to grow its business by 100% in the next five years, and touch the 25000 crores mark by March 31, 2022.Apart from the business growth, NKGSB believes that customer satisfaction is the highest return on investment and therefore the bank focuses to leave no stone unturned when it comes to serving its customers", says Mr. Gaitonde.
"In the times when the Indian banking sector is plagued with NPAs (Non-Performing Assets) and scams, NKGSB is far from these malaises. It has struck the right balance between its operations and customer demands, for which the bank is yielding sweet fruits", concludes Mr. Gaitonde.