NIIKHIL BALLAL & JUILI KULKARNI
When most of us are feeling cozy in our bed every morning, the Barot family is up and running in the wee hours every day. This is not the case for a year or two, but for close to last 90 years.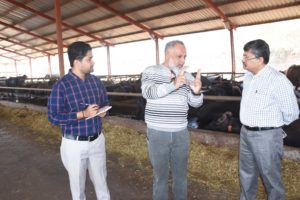 Established in 1930 by Mr. Chottalal Barot, Jagdish Dugdhalaya is one of the oldest dairy businesses in Maharashtra. An obvious anomaly to the Scottish saying, "The father buys, the son builds, the grandchild sells, and his son begs", the Barot family has been milking its business for the last nine decades. In China, it is said, "Wealth never survives three generations", but in case of Jagdish Dugdhalaya, we can certainly say, "Wealth does survive three generations". And the scion of Barot family is already learning the modern ways of trade in New Zealand, a pasture far away from home.
Looking at the history of this iconic business, Mr. Chottalal Barot founded Jagdish Dugdhalaya, and later passed on the baton of leadership to his son Mr. Narhari Barot. A school teacher by profession, Mr. Narhari was instrumental in the expansion of business, and today it is Mr. Jitesh Barot, grandson of Mr. Chottalal, who has successfully taken over the reins from his father Mr. Narhari.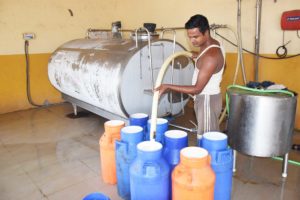 Jagdish Dugdhalaya boasts of 1800 animals that produce an eye popping sum of 7500 litres of milk everyday. The majority of the milk produced is sourced from buffaloes. This overwhelming quantity of milk produced on a daily basis is supplied to 5000 loyal customers of Jagdish Dugdhalaya that are scattered in Kalyan and Ulhasnagar. The buffaloes at the Dugdhalaya are mostly of the Murrah breed, a popular breed in Israel. The other milch animals are bought from Haryana.
The Barot family-run Jagdish Dugdhalaya is a proud owner of four farms, one each in Kalyan, Padgha, Murbad, and Gujarat. These farms are very systematically managed by Alpro software, a herds management system that is designed by DeLaval DelPro.  The milking process that is followed by Barot and co. is worth raising an eyebrow. "All the animals stand in a queue. Then the water sprinklers are used to bathe them. Once the animals are cleaned, they are mechanically milked. 24 animals are milked at a time. If it is observed that an animal gives milk less than its capacity, then immediate action is taken with respect to that animal. The buffalo/cow is then brought to sorting gate, analyzed, and treated. It is then sent to cubical shed along with other animals", explicated Mr. Jitesh Barot. The milking time of the animals is fixed. It is either 6am or 6pm. Mr. Jitesh added, "We provide a high protein diet to our animals, since we believe that if the animal is healthy, the milk produced by her is going to be of top quality. Typically, the life span of these animals is 12-14 years. It is therefore important for us to nurture these animals well. Therefore our emphasis is on giving the best possible food to these animals".  The passion is more than evident as Mr. Jitesh explains the various improvisations, techniques that he has deployed making his business state of the art.  The farm at Murbad which we visited is a proof of the vision the Barot family has. The piece of land would have otherwise gone un-noticed as the first impression of does not exude the confidence that a dairy can be a viable proposition. However, Mr. Jitesh with tremendous will and diligence has converted the piece of land to make his dream come true . "When we were looking for land, my only condition was that a water-body must be near. That the proximity of a river helped us set this farm", he stated.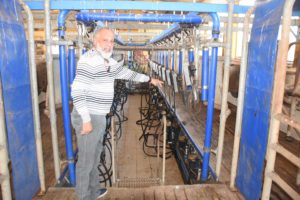 After garnering tremendous success in milk production and gaining a strong hold over the milk consuming customer base, Jagdish Dugdhalaya dived into the sweets making business in 2005. Madhurima, the sweet shop of Jagdish Dugdhalaya, houses panoply of lip smacking sweets that has an innate ability to tickle the taste buds of one and all. The sweet shop is now an established affair, with close to 300 people working day in and day out to serve the best of delicacies made from fresh farm milk. "Our USP is that we use only fresh farm milk to produce the sweets. We believe that the sweets made of fresh farm milk give an altogether different taste. I feel elated to share that people of Kalyan are head over heels for our sweets and they savour it with love", stated Mr. Barot. No wonder Madhurima is an household name.
Just a decade less to mark a scintillating century of existence, Jagdish Dugdhalaya's Jitesh Barot concluded, "It is our dream to make every milk farmer an independent businessman and through our work at Jagdish Dugdhalaya we are striving to achieve our dream".