Thane's Trust Patient First
NIIKHIL BALLAL
A lynchpin landmark and an unequivocally best healthcare service provider, Jupiter Hospital has not only won the hearts of people in and around Thane, but also "felt the pulse" of thousands of patients and offered them exceptional panacea. As is the case in the solar system, Jupiter is the largest planet things are not too different on the Earth, where Jupiter Hospital is now gaining quick recognition of indisputably being one of the most comprehensive and best hospitals even in Pune.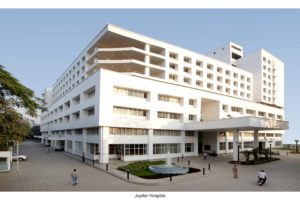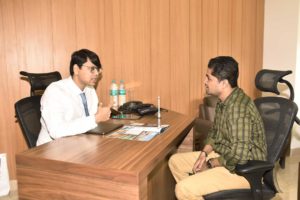 Started by Dr. Ajay Thakker, Chairman and Managing Director, in 2007, Jupiter Hospital has catered to the increasing population with impeccable finesse. Hailing from the community of entrepreneurs, Dr. Ajay Thakker, a man with a vision to revamp the medical skyline of Thane, set the ball rolling, 11 years back, when he founded Jupiter Hospital. As a practicing Radiologist in Thane, Dr. Ajay Thakker observed a disturbing trend; the ailing individuals had to travel helter and skelter to find the best treatment. This triggered Dr. Ajay to start with a multi-specialty hospital in Thane to offer a catholicon to people's woes. Being in the vicinity of Mumbai, Thane is developing by leaps and bounds and it was high time that the City of Lakes had its own tertiary care hospital. Housing over 20 lakh people, it was painful to know that the city was devoid of cathlabs, organ transplant programs, knee transplant programs, pediatric cardiology programs, to name a few, before the advent of Jupiter. Equipped with more than 350 beds across seven floors, Jupiter Hospital is a house to South Asia's finest cancer care clinic, cardiac care, region's largest paediatric facility, liver and kidney transplantation facility, among others.
Dr. Ankit Thakker, Executive Director and CEO of Jupiter Hospital, who is now leading future expansions and new technology development for the group elucidated, "We boast of India's best neuro rehab centre in our Thane hospital. We have had some doctors from California visiting us, and they were so excited by the state of the art infrastructure and technology that they actually wanted us to set up a similar centre back in their country. It is a matter of pride for us as Thanekars, that our city is able to offer better technology and care than some of the most advanced cities in USA."
Jupiter's approach of 'Patient First' has inspired them to bring the best aspects of modern medicine and healthcare under a single multi-functional premise, right from day one. The hospital is designed with large spaces for common areas and comfort for the patient's family. "In India, it is not just the patient, you have to take care of the attending family as well. Unlike the western part of the world, in our country it is common for a family member to be staying with the patient all the time. So we make sure that we don't get influenced too much by international architecture and design, which would probably discount the  needs of an Indian family", says Dr. Thakker. There are large lounges for the family and free night accommodation for relatives of all patients admitted in ICUs. It is probably the reason why Jupiter dedicates about 1200 sq. ft. of space per patient, much higher than the WHO recommendations. It is also amongst the first hospitals with a dedicated 'hospitality' team to ensure better comfort. Jupiter Hospital is also the region's first NABH accredited institution by the 'Quality Council of India', an appropriate recognition for their high standards of quality healthcare as well as operational and management efficiency, thus, proving their achievements in world class infrastructure, technology and a futuristic and innovative approach towards Healthcare.
There is scarcely any doubt that Jupiter has become the most preferred option in and around the city. However, Dr. Thakker and co. have tasted this success with a pinch of salt. When asked about people's perception about Jupiter Hospital a scary "corporate" hospital, Dr. Ankit recalled "These are perceptions of people from the outside. As far as we are concerned there is a huge amount of mutual trust and respect between us and our patients. During demonetization, when there were widespread media stories about the suffering of patients, there was complete comfort and order at Jupiter. We allowed all procedures, investigations, surgeries and even discharged patients home with zero money. The patients simply wrote on a blank piece of paper that they would pay once they had access to currency, and that was it. No further questions asked. And I am proud to say that 100% of the patients came forward and settled their dues without a single follow up call from the hospital."
This trust is not episodic, rather a way of life at Jupiter. The hospital runs its own Jupiter Charitable Institute (JCI) in the same premises for about 10 years now. Currently operating 50 low cost beds, available for as little as Rs. 350 per day, JCI provides hugely subsidized care to the community. Not only are all the surgeries and investigations subsidized by upto 40%, but also there is no compromise on quality of care. When JCI patients are critical they use the same ICU as any other patient, if they need a surgery, its in the same operation theatre as any other patient, all doctors and nurses are also the same. But how does someone become eligible for this? By simply signing a form which says that you cannot afford the full cost. No further questions.
Every year JCI also conducts about 300 free surgeries for congenital deformities in children, about 600 free pediatric cardiac interventions and open heart surgeries and about 1200 free eye surgeries. Most of these surgeries are funded by Jupiter itself. However, even for free surgeries Jupiter never asks for any proof of poverty. It is purely trust based.
The culture of the Thane hospital has also been embraced in the new hospital in Pune. Several low cost community initiatives from diabetes and kidney care upto cancer and organ transplants have been undertaken in Pune with the same philosophy.
It goes without saying that without a strong internal team it cannot be possible to deliver such care. " We have a very close-knit organization and a familial working atmosphere. At the medical and senior management level, there has been practically 0% attrition", added Dr. Ankit Thakker. "The doctors here are not just extremely competent but also excellent human beings. They always have the patient's interest as the prime target and we never need to second guess their decisisons"
Jupiter Hospital has seldom resorted to any marketing activities, because it believes that there is no greater marketing than a satisfied patient. Dr. Ankit is very passionate about patient care and is constantly seeking to innovate and improve on nursing standards and patient experience. He is an advocate of a flat organization structure.  "In Jupiter, we have an open culture; anyone can come to me directly without necessarily jumping through hoops of bureaucracy or heirarchy", elucidated the CEO.
After gathering substantial success in the City of Lakes, Jupiter is now also present in the Queen of Deccan i.e Pune as well. Jupiter Hospital opened its Pune facility in Baner in 2017. The Pune facility is built at an even grander scale, and houses all medical facilities that the community could need. In a short time they have developed the reputation of delivering cutting edge healthcare in Pune. "We are overwhelmed by the trust. Unlike a new new restaurant, people are usually reluctant to go to a new hospital. However, this was not true in our case. In the very first year of operations we saw people trusting us for the most complex of their healthcare needs. For instance, we are already doing the largest number of living donor liver transplants in the region, we have a large number of cancer patients and a substantial orthopedic load" says Dr. Ankit, "And its not just Pune, rather the whole of south Maharashtra – from Baramati, and Solapur, to Satara, Karad and Kolhapur – that is reposing their faith in us."
"It was long overdue" , concludes Dr. Thakker, " Pune deserved a hospital it could be proud of – a place which would provide the right care, equipped with the right technology, at the right cost and with the right intentions."