Niikhil Ballal
In the days when hate is in abundance, destroying  the very fabric , neatly woven by threads of values and embroidered by morality, someone preaching love and its significance is bound to attract attention  and so is Sri Tara Ma. Needless to say that she is embodiment of love which manifests itself in compassion, service, devotion and discipline. With this ideology at the core of her tremendous contribution towards the society in general and children in particular,Sri Tara  Ma has made life meaningful to all those who came under the spell of her inimitable style.The fountain of inspiration to thousands of her ardent followers in the country and abroad, Sri Tara  Ma  took precious time out of her schedule   to speak out her mind to Know Your Town  on the eve of her 75th birthday.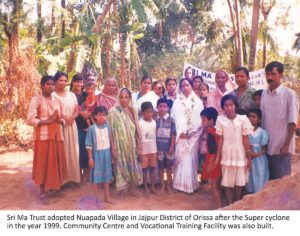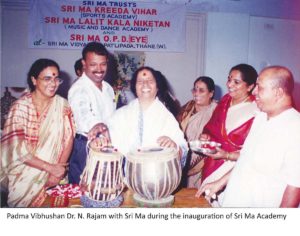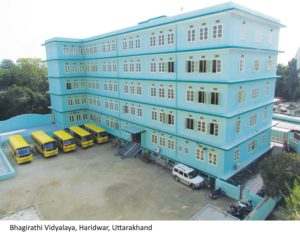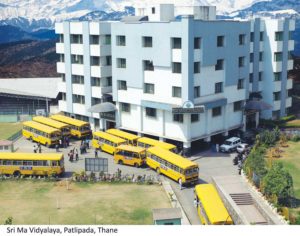 Do you still hold fort about your ideology and firm belief on love when hate has become the order of the day.
Sri Tara Ma : Yes ,I still believe that most of the maladies that the present society find their root  in hate.Narrow mindedness,parochial thinking, selfishness and greed have taken a huge toll on our value system.We need to correct the situation and sanitize the environment by virtue and love. No evil can take over the mankind,if love and compassion are on its side.
But then todays world has embraced progress with equal proportion of  pragmatism and the new generation looks at our values with caution. How do you take on this so called rationality ?
STM: I appreciate the new generation and their perspective towards religion and spiritualism. In fact I too do not advocate  in promoting a particular religion on the basis of blind faith. My conviction is that all religions have their set of values which finally make the universe an harmonious place to live. Being born as an human itself is  precious and the rarest of rare  opportunity must not be wasted in trivial   issues.My work of communicating with the new generation becomes simpler  as we have treasure trove of stories and fables emanating from our rich legacy of mythology. Our scriptures  were painstakingly penned by sadhus and rishis who were more pragmatic than us. You will find a logic  in every narrative.
How do you juxtapose competition  and compassion.
STM: (With a smile on her countenance) Competition withers away in the face of compassion. What remains is an healthy competition  and that is essential as it helps the one indulging to excel.At the back of the mind is an healthy spirit which always affects the humanity.
Why did you select the field of education to augment the noble cause of spreading love.
STM: The reason is simple. We all agree on the nobility of the profession.It is perhaps  the only route to correct the current situation. The impressionable and innocent minds of the children will absorb the good values and also put them in practice. Which better place than an educational institution can provide such platform? Our schools put more thrust on ethics, an ideal code of conduct and create an environment that only positivity oozes out from them.We have been seeing a change in the attitude of our children and that gives us an immense satisfaction that we are on the right track.
You have always been a champion for girls getting a fair chance.
STM :I am strictly against gender bias. For me each individual has good qualities and those in position must give them a fair chance to explore. Girls in India have been neglected for various reasons.We have  given them the necessary support and guidance. There are hundreds of girls particularly from the rural areas who  fought against odds and we were fortunate to render them the much needed support. Some of these girls are doing great job in our mission of spreading love in the world.
Sri Tara Ma affectionately called Mataji, the founder of Prem Ashram, was born in Pune on February 13, 1944. A personification of divinity She revealed Herself in July 1963, when she was barely 19, during a Bhagavati Puja. Sri Tara Ma then devoted Her life to enlightening the people who came to seek Her darshan.
Saints teach us the way of God that will open the keys of spiritual treasure.
Sri Tara Ma in Her inimitable glorious style effortlessly works around the clock with precision to lead humanity towards divinity. From the nursery of religion she graduates them to spirituality to realize the ABSOLUTE TRUTH. Every facet of Her life and works, words and actions are filled with spiritual sensitivity.
She bestows strength to bear the fruits of the past karma or actions, of previous births and even the present births, joyously. She guides everyone in the performance of good deeds as pilgrims in the spiritual path. Her spiritual instructions are unique to each individual as per their mental state and spiritual evolvement. She invokes the purity of life that blossoms to meditative consciousness and experience of bliss. She lives to make us happy by destroying ignorance and guides us to attain the goal of life. She has nothing to gain but she really loses if we do not benefit. Though she is the master of masters or the king of kings she never orders, but only lovingly advises. Her spiritual aura keeps people in awe of Her but She Herself has no trace of ego. She is unassuming and She appears quite natural with everyone; laughing, smiling, talking, and joking. There is a lesson to learn from Her at every step.
She speaks the language of the heart. She has Akshay Patra (inexhaustible divine vessel) to bestow something for everybody.
Everybody belongs to Her and she belongs to everybody, from a new born baby to a old person, and ofcourse to people of different religion caste, creed and colour, alike. She is Mother! She is Divine Mother!!
Additional Information
The foundation stone of Prem Ashram, Thane (Mah.) was laid on Dassera Day, in 1969. The Ashram was inaugurated by Sri Tara Ma, on June 13, 1971. Sri Tara Ma's Mission is aimed at showering unconditional pure love towards all, whether animate or inanimate. Bhagirathi Dham, Haripurkalan, Hardwar, 1989., Sri Tara Ma Welfare Center, Nuapada, Jajpur District, 2000, Sri Ma Vanasthali Ashram, G.B. Road, Thane (Mah.), 2004, Sri Tara Ma Mission, Plano Tx, 2009, Sri Tara Ma Ashram, Pimpaley Saudagar (Pune), 2014, Sri Ma Nilayam, Guduvanchery, Chennai, 2018 are the centres. Sri Tara Ma Mission, Gurugram, Haryana will be inaugurated on March 2019.
Sri Tara Mataji started the Prem Ashram Seva Sangh-Mahila Vibhag. Its main activities are: 1.Earn-As-You-Learn Schemes for women, and 2. Mid-Day Meal Programme for school going slum children.
Out of infinite Love, Sri Ma started conducting Sadhana Shibirs (Spiritual Retreats). The Omkar Dhyan Upasana, as propounded by Swami Omkarananda, is the main spiritual practice. Participants see through all the sessions holding on to the divine motherly care of Sri Ma and return to their respective lives not merely rejuvenated but transformed. Sri Ma teaches one to be spiritualistic and not ritualistic.
Schools
Sri Tara Ma, with the intention of inculcating moral, spiritual and scholastic education in the children to interweave hearts for beautiful living and for making quality world citizens, started Sri Ma Bal Niketan, Kopri, Thane (Mah) in 1975. Bhagirathi Vidyalaya (CBSE), Haripurkalan, Hardwar in 1992, Sri Ma Snehadeep – School for the physically and mentally challenged, Thane (Mah) in 1989, and Sri Ma Vidyalaya (CBSE), G.B. Road, Patlipada, Thane (Mah) in 2000. Having run successfully under the State Board pattern, the school has made a favourable transition into the CBSE pattern of education. Sri Ma Vidyalaya (CBSE), Perumattunallur, Guduvanchery, Tamil Nadu was started in April 2016, and Sri Ma Montessori International, Gurugram, Haryana in April 2018, Sri Ma Music, Dance & Fine Arts Academy and Sri Ma Sports Academy are also present as Shi ma Gurukul. State-of-the-art educational and co-curricular facilities are available at the SMGI. Sri Tara Mataji's vision of spreading Universal Love through character-enriching education has been the driving force behind the Sri Ma Group of Institutions.
 Relief and Rehabilitation
During natural disasters like earthquakes, droughts and floods, and unnatural disasters like riots, Sri Tara Ma has always taken the lead in organizing relief and rehabilitation work through collection of funds and materials and corporeal service. Sri Ma has personally visited the strife stricken areas and rendered selfless service with medical and relief materials. Also activities are conducted to alleviate psychological trauma, mainly for children. Some of the adversities that Sri Ma extended its supporting hand are: Maharashtra drought in 1973, Floods in Jambulpada and Nagothane in 1990, Mumbai riots in 1993, Orissa super cyclone in 1999, Gujarat Earthquake in 2001, Tsunami in South India in 2004, Maharashtra floods in 2005, Gujarat Flash Floods in 2006, Bihar Flash Floods in 2008, Cloud Burst Floods in Uttarakhand in 2010 , Uttarakhand Flood Relief in 2013, Chennai flood in 2015, Kashmir floods (Relief Camp in Mumbai) in 2015, and Wayanad flood relief in 2018.
Free Eye Camps
Sri Ma Trusts Free Eye Camps and Heath check up camps were started in 1994. These camps are conducted almost every year at: Prem Ashram, Thane, Sri Tara Ma Welfare Center, Nuapada, Jajpur District, Bhagirathi Dham, Hardwar, Sri Ma Nilayam, Chennai, Sri Tara Ma Ashram, Pimpaley Saudagar (Pune).
Public Service
The Mission has been running the Sri Ma Snehalaya Kanya Ashram (Home for Orphaned & semi-orphaned girl children) at Bhagirathi Dham, Hardwar, since May 2003 and Sri Ma Kanya Vidyalaya, Bhagirathi Dham, Hardwar (Free School for girls).
Sudha varsha News letter 2002, Stotra sudha, Invaluable Gems, Value Education, Blooming Lotus, and Sage's Diary are some of the other initiatives of this benevolent Trust.