BHIWANDI : A NEW GLOBAL DESTINATION!
Nikhil Ballal
Did you know that the paper on which your train tickets are printed is made in your town! Not just that,  but mobile recharge cards, IPL tickets, playing cards etc are all manufactured just a few kilometres away from your vicinity.
All thanks to the vision of this man, Mr. Nanji Patel who has literally executed the concept of Make in India on Bhiwandi road, near Thane . His vision combined with intelligence, laid the foundation of " Bhumi World Industrial Park" . Top manufacturers not only from India but also overseas are now a part of this world class infrastructure.
Mr. Nanji Patels' original business deals in glass manufacture.  He is the owner of the famous brand Gebi Glass. In a short span of time they created a strong reputation that claimed ninety percent of market share in its class. Almost every household uses their decorative glasses, and presently it is used in 16 states of India.  With a flourishing interior glass business, they decided to diversify into exterior glass too that required a bigger space.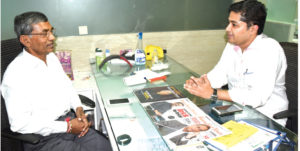 Finding a suitable place at Bhivandi road , they created a beautiful shed which fascinated on-lookers, including the illustrious Godrej, who proposed them to rent it for their use.  Surprised at this proposal, the Patels, without second thoughts accepted the offer. "If our construction impresses such a world class industrial establishment then it can equally appeal to similar Indian and global organisations", thought Mr. Patel. So, they dropped the plan of setting up a plant there and instead decided to enter into the infrastructure business, which gave birth to "Bhumi Industrial park."
On completing his MBA, Mr. Prakash Patel, son of Mr. Nanji Patel joined his father to execute his dream of Make in India. The father-son duo decided to change the image of industrial estates by developing a world class industrial park.
"Land acquiring was the biggest challenge in developing the park" says Prakash Patel. Breaking ice with the locals took time and finally after a decade we acquired the land. Eventually we created good rapport with them by providing employment and also basic infrastructure such as roads, electricity and a school for the villagers", added Prakash.
With free hold property, 40% subsidy, prime location, 24 X 7 power supply, octroi free zone, zero stamp duty and subsidised bank interest loans, offices got sold like hot cakes. Presently, more than 1000 companies are operating in this park which includes some big names like Repro India, TM Prints, Devarsh Infotech, Nirman Impress, Insight print communications, Continuity printers, NGPL prints, Rybcal, Metro multimedia digital, Signtronix, Siddhi mumbai traffic solutions, Chandna graphics, Navgrah prints and Navgrah prints. 18 lakhs square feet was delivered in phase-1 and more than 10 lakhs square feet is in progress.
"Unlike other industrial estates, we have offices and factories at one place. So, businessmen not only save time but also can keep a watch in both departments. Spacious designs, earth quake resistant structure, strict quality control measures adhered to at all stages of construction is our USP, says Mr. Nanji.
"It is the only industrial park that offers end to end support to operate at your best" says Mr.Prakash.  Regular bus services, staff accommodation, canteen and cafeteria, plush offices with separate entrances and waiting lounges, good internal roads, conference rooms, WIFI connectivity and high power street lights have made the functioning of industries easy.
Setting up of Bhumi world was as good as setting up a town. We have literally played the role of the municipality as also of MIDC as right from drainage to a water purification plant, we have managed everything", says Mr. Prakash.