Nikhil Ballal
The so called brands which have taken a centre-stage today, must owe their share of limelight to these two gentlemen who not only brought them out of the oblivion but catapulated them to the heights of success. Mr. Samir Vatturkar and Mr. Kashinath Pawar who run the Aries advertising agency must be credited of bringing many a small time players to the threshold of glory 'Aries' actually changed the horoscope of their clients. The ad agency duo made the lady luck smile on them.
Neither, of them had exposure to art or advertisement training or background which is the backbone for advertising. Interestingly both had never heard the term 'ad agency' till such time as they ventured in this field!
Samir, an X-ray technician by training, while working with Wadia Hospital, used to moonlight to earn a quick a buck as a wedding photographer. Impressed with his work, an advertisement agency offered him to undertake their property photography shoots. In time he built his reputation for property advertisements in the Thane belt. The work he had undertaken fifteen years ago still holds him in good stead. As creativity comes to him naturally- Samir started trying his hand on artworks. Just like his photography, his ad designs started getting acknowledged and he quickly established his first independent creative agency "Panorama" at Dombivli.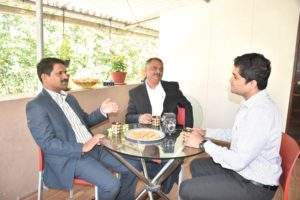 Kashinath's story is no different than Samir coming from an economically marginalised family he had nothing to do with advertisement and the marketing world. He lost his father when he was all of 12; the trauma of his father's death afflicted his mother with a serious mental illness; worse, his elder brother abandoned them disowning their responsibility. Kashinath had no choice but to fend for himself and his mother. He would study and work through the day in the nearby farms to make ends meet for a measly seven rupees a day. Despite such a precarious situation, he scored good marks in the tenth. However financial constraints forced him to abandon further studies and he had to take up a job in Mumbai as an office boy. While working there he quickly mastered the skills to manage and operate an organisation. He contributed enormously to his employers' organisation by saving substantial money on telephone bills, unearthed a proxy attendance racket, a fraudulent company secretary and instilled discipline. He not only won the hearts of his bosses but their confidence too!
Regrettably, soon after his marriage he lost this job because the company folded its operations. He had to start all over as an office boy tasked with the job of recoveries in an advertising company. 'I have endured so much in life that crisis doesn't affect me anymore', says Kashinath.
In the new assignment, he impressed his new employers, the ad agency owners, in less than a week's time by recovering 70 lakhs outstanding dues from clients which were almost written off. This gave him a break to manage the agencies loss making branch in Thane. He turned it around and brought it to good financial health with a turnover of four crores.  This helped him build a sound reputation with his employers in addition to gaining stature with builders in the real estate market.
It is here that Samir and Kashinath's paths merged- they became friends quickly as Samir's creatives were released by Kashinath's agency. Back then for Samir,  it was tough  even to manage to sell a logo.  Clients were not aware of its significance. However, today 90% logo designs of builders from this belt are credited to him, which they flaunt with pride.
But before this success, he had to suffer numerous rejections.  Like other businesses, in this business too nothing pays like patience. "Perhaps our constant association with Sindhis and Gujratis helped us assimilate the business virtues. They made us  strong human beings and left us with no ego", admits Samir. "Today, most of the builders in this area heavily rely on us. They know that we can deliver", adds Samir.
Working together, as client and service provider, their business relationship quickly transformed into friendship, as they both shared similar backgrounds. Perhaps it was the time for 'Arise' to be born. Due to differences with his boss, Samir was compelled to resign. As soon as he resigned, God knows why but the first call he made was to Kashinath. He was shocked and asked to meet him immediately and in a day they decided to start their own agency.  Both met all their clients and requested them to fund them. Their goodwill paid off, lady luck smiled and within two days they were able to put together a venture capital of 20 lakhs.
Their agency was new but they were old hands in the business. With continuous rapport and business relations they soon became one of the major advertisement agency quips Kashinath.
"Today Aries has more than 200 clients under its belt. We constantly think in terms of how many sq. feet property our sq.cms of advertisement would be able to sell. Post advertisement release, we visit sites, monitor and analyze customer behaviour. We train staff in etiquettes and effective selling skills", says Samir.
"We advise customers as per market sentiments. Once we advised a builder not to put an advertisement on Lakshmi Puja day, but he was so adamant that we had to run the advertisement campaign against our desire. The campaign did not fetch the results, as no one showed up on his site. He remembers our advice and today takes decision only after consulting us", adds Kashinath.
"As an ad agency we have evolved and also diversified into property exhibitions, mainly for Thane belt. This year's exhibition is very special, as our theme is' cashless homes'. We have tied up with banks who can give 100% loans to home seekers thus eliminating  cash worry of commoners", concludes Samir.
The trust and reliability factor of Arise is so strong that Rahul Panvelkar, CEO, Panvelkar Group, observed that Samir and Kashinath have become a part of Panvelkar family. "Our logo is designed by them, over a decade ago and it is still relevant, in tune with present dynamic market scenario- a clear indication of their vision and understanding of market. For this very reason we have entrusted them with our 360 degree advertising responsibility", says Panvelkar.