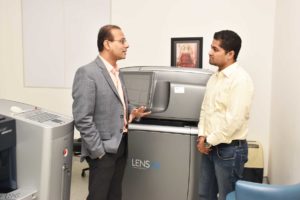 NiIkhil Ballal & Juili Kulkarni
Every morning we open two of the best gifts given to us by the Almighty. They are our eyes.The world would not have been a beautiful place, if there were no eyes to see it. Our eyes are undoubtedly the important part of the body, albeit small. One of the most interesting organs in the body, our eyes are equally complex. Who would rather fathom this well than our very own Dr. Nitin Deshpande?
Hailing from a family of medical practitioners, Dr. Nitin Deshpande, obediently emulated the path traversed by his parents; Dr. Suhas Deshpande, an Ophthalmologist who is running a hospital named Saidhan for more than three decades in Mulund along with Dr.Suniti Deshpande, MD Medicine. Dr. Nitin Deshpande is an Ophthalmologist and has a Fellowship in Glaucoma and Medical Retina. Dr. Nitin practises in his very own super specialty eye care hospital, Shree Ramkrishna Netralaya (SRN) that was started 15 years back in Thane, and is ably supported by his wife Dr. Prajakta Deshpande, who is also an Ophthalmologist. Prior to the birth of Shree Ramkrishna Netralaya, Dr.Nitin worked with Arvind Eye Hospitals and Bascom Palmer Eye Institute. Carrying a bounty of experience with him, Dr. Nitin laid the foundation stone of the super specialty eye care clinic.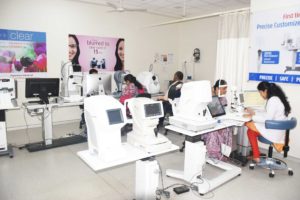 Shree Ramkrishna Netralaya boasts of a whopping 10,000 sq.ft area that houses state of the art medical facility and well-trained staff.  The super specialty eye clinic believes in having the world's best technology and instruments that facilitate smooth operations. For instance,  Shree Ramkrishna Netralaya uses imported bladeless cataract surgery machines from California and a range of other equipment that are procured from countries like Germany and Japan. "We want to provide our patients with the best of treatments, and for that we realize that we need to have world class technology at our disposal", elucidated. Dr. Nitin. Though eye seems to be the smallest of the body parts, indisputably it is one of the sensitive organs. "An infection in the eye could be perilous, and there is a chance that the patient may lose his/her vision forever. Therefore we take extra precaution while treating our patients. As a part of our safety procedure, we see to it that we use disposables and vacuum sterilized consumables.  A patient's safety is of paramount importance to us", added Dr. Deshpande.The fact that this Ophthalmology Hospital is NABH accredited doubly assures that Quality Control is looked upon with utmost seriousness here.
A typical day in Thane's first ISO certified Eye Hospital sees 10-15 cataract operations and more than 100 patients in the OPD.  Dr. Nitin and his wife, Dr. Prajakta, strive to see as many patients as possible throughout the day. The perfect blend of their synergies is what has defined the growth story of the super specialty eye care hospital that is now present in Thane, Mulund, and Navi Mumbai.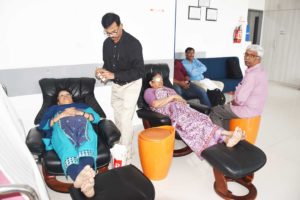 Dr. Deshpande and his team of experienced medical practitioners offer a panoply of facilities which include Bladeless Lasik,  Diopsys ERG/VEP,  Excimer Laser System, Implantable Contact Lenses, and Intraocular Lenses. In addition to this, Shree Ramkrishna Netralaya houses Cataract Clinic, Glaucoma Clinic, Retina Clinic, Cornea Clinic, Squint Clinic, Contact Lens Clinic, Dry Eyes Clinic, and Ocular Aesthetic Clinic. They strongly believe in serving the society. In association with Thane Municipal Corporation they have performed 1500 free surgeries.
They have always upgraded themselves as per changing times and have given best technological experience to Thanekars at an affordable cost.  They are pioneer to launch a hospital app which is used by thousands of their patients. Patients regularly avail insights about eye care and also take online appointments from any part of the world. Shree Ramkrishna Netralaya are also first to introduce Centurion vision systemfrom Alcon USA, in Thane. This is a revolutionary technology for safe and effective cataract removal.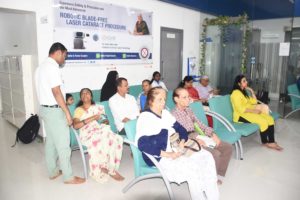 Shree Ramkrishna Netralaya has given a new vision to thousands of people that have come with a hope in the eyes. Can you imagine a wild life photographer or a drawing teacher with less than perfect eyesight?  No, right.  A medical practitioner and a celebrated wild life photographer, anda world renowned painter,  are two of the many beneficiaries of Dr.  Deshpande's impeccable services. Shree Ramkrishna Netralaya helped these two gentlemen to see light after the tunnel.
Our patients have always been our top priority.  We have one of the best motivated and helping staff to cater to patient needs. We always try to make a person comfortable and cared for,  adds Dr. Nitin. Being a Rotarian himself he wishes to introduce more charitable services in future.
The medical fraternity has unequivocally burnt the midnight oil and done a lot for the people, however, it cannot be ruled out that we are living in the times of constant barrage of criticism and controversy that the doctors are subject to.  Taking cognition of this, Shree Ramkrishna Netralaya has maintained transparency with its stakeholders and adhered to ethical practices since day one. "The name of our hospital itself amplifies that we are spiritual by nature, and believe in righteousness. This has always been our approach and therefore there is no question of being unethical in our operations", explicated Dr. Deshpande.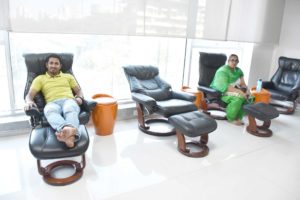 Talking about Shree Ramkrishna Netralaya's future plans, Dr. Nitin concluded, "After garnering tremendous success in Thane and Mulund, we are oozing with confidence and would want to spread our wings to New Bombay.  We have started our hospital in Sea Woods. Drawing a leaf out of the list of patients that visit us, we sense a growing demand from that part of the district. For them, we are coming up with a state of the art medical facility to provide a hassle free ophthalmological experience".