NiIkhil Ballal & Juili Kulkarni
Dr. A. P.J. Abdul Kalam once quoted, "Dream is not the thing that you see in sleep but is that thing that doesn't let you sleep". There could have been no better quote than this to summarize Mr. Swapnil Marathe's breathtaking business journey in a nutshell.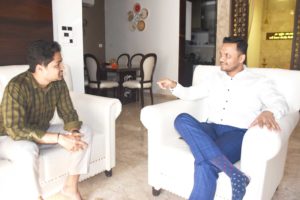 Hailing from a typical middle class Marathi family in Kalwa, Thane. Mr.  Marathe broke the shackles when he envisioned becoming a businessman. With no business background whatsoever, Mr. Marathe was clearly someone unique in his family as he didn't follow the 9-5 trend that his family had been following since generations.
With a zeal to create his own legacy and a strong desire to be a businessman, he set out on an entrepreneurial adventure at the age of just 21 years. While youth of his age were still figuring out what to do in life and spent most of their time in enjoying their youthful days. Mr. Marathe was determined to carve a niche for himself.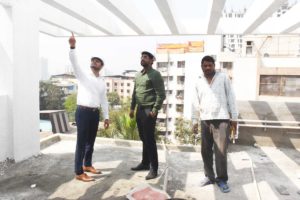 An Engineer by qualification, Mr. Marathe has indeed come a long way, thanks to the ups and downs in a series of eventful experiences that he underwent over the last decade. From starting a computer hardware store in his first year of Engineering to setting up an Airtel distribution agency from managing a restaurant in Airoli to owning one of the Thane's best broking and real estate development companies. There is seldom any doubt that the ambitious businessman has indeed come a long way. As the cliché goes, "Experience is the best teacher", the dynamic businessman has sailed through all so far, albeit sometimes even starting everything from scratch for the new business that he entered. Mr. Marathe has never shied away from fishing in troubled waters and the height that he has scaled today is a conspicuous evidence of the same.
When asked about when was it actually that he first thought of entering into construction line. Mr. Marathe quickly reminisced, "I vividly remember my mother sharing a small anecdote with me. One day when my mother and I were strolling down the street, we came across a building named Bharti Raj and its unique name caught my attention. The immediate reaction of my younger innocent self was asking my mother why the building was named so. Answering her eight year old child, my mother said, the builder has named the building after his parents (Bharti and Rajaram). On hearing what my mother said, I was prompt in replying that one day even I will construct a building and name it after my parents JayRaj (Jayshree and Yuvraj)".
Imagine at such a young age, to have those kind of thoughts is truly incredible. As the destiny would have it. Mr. Marathe today is a step closer in turning his childhood dream of gifting his parents a residential tower named after them as the building is currently under construction. "Just like any business you take, the real estate business is also not anyone and everyone's cup of tea. Though it looks very lucrative from the outside, from within, it is extremely demanding and will take away every ounce of your energy if you aim to have prominent place in real estate business." stated Mr. Marathe.
As of today under the banner of ASHWA REALTORS incepted in 2014. Mr. Marathe and his team has sold close to 1000 flats and TRIMITY GROUP has given home to more than 100 families in Thane, Mulund and nearby areas. Development, Redevelopment as well as SRA projects are included in the rich repertoire of Trimity Group.
The enterprising entrepreneur did not settle with just providing shelter to the people but he has also expanded his horizons and vertically diversified by entering into the business of contracting under YUVAN INFRA which deals with real estate and government contracting work, and MARKAR – a vertical that deals in providing automated parking systems. In addition, Mr. Marathe has spread his philanthropy wing through YUVAN FOUNDATION which is aimed at providing assistance to myriad social activities.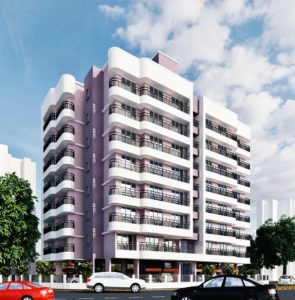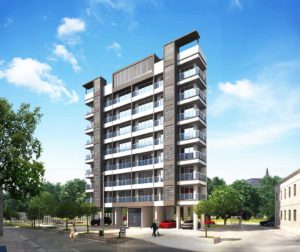 The young businessman has already taken some big steps in the real estate business and looks up to Mr. Niranjan Hiranandani for inspiration. Mr. Swapnil Marathe concluded, "Mr. Hiranandani is not just in the business of building homes but is in the business of creating class and providing one of the world's best lifestyles to the clients. One day, I see myself doing the kind of work Mr. Hiranandani has been doing for the past many decades".
"As a fitness enthusiast Mr. Marathe does gym and yoga regularly as he believes in being FIT, FIERCE and FABULOUS. In constant pursuit of excellence, he is of the opinion that "It is within yourself that you will find the strength". As a visionary entrepreneur, Mr. Marathe doesn't believe that sky is the limit as he is aiming for an overall turnover of 100 million USD [ INR 700 crore] for the YUVAN GROUP in the next financial year 2019-20. In the next 5 years, he plans to expand Yuvan group beyond real estate and into sectors that serve as platform for formation of better human beings especially Education and Health Care sector. What started as a dream should empower others to achieve their own, a social entrepreneurship venture capital firm is also in the pipeline for the group that will provide a firm base to upcoming and visionary entrepreneurs like him to pursue their dream.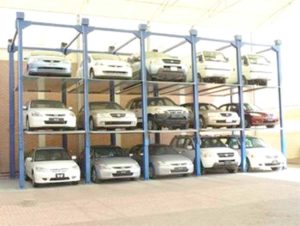 When we asked Mr. Swapnil Marathe to share any unfound piece of advice for our readers, he was straightforward in his views that " No amount of Motivation, Money or Contacts will work unless you have a Strong Will and an Unwavering Desire to achieve your goals more than even your need to breathe".