TURNING DREAMS INTO REALITY
NIIKHIL BALLAL
"Money is like cooked food. It should not be accumulated in bank (read refrigerator) but should be consumed when freshly made". Thriving on this principle, this rank holder Chartered Accountant and entrepreneur has indubitably converted the dreams of thousands of students in India and abroad into reality. His company FACT guides students for university education across the globe. Starting with a small office in Thane in 1998, FACT has grown to 20 offices in 5 countries and still counting. This is about the journey of FACT and its founder.
Born and brought up in a typical middle class family of Thane, Mr. Sunil Shah has been fearless and enterprising right from his childhood. His uncanny ways of solving problems is plausibly one of the reasons for his success. "Once during my childhood, my friends and I wanted to play at the Officers' Club in Thane. We neither had the money nor the membership to this prestigious club. We knew we desired for something that was out of our reach. However the out of the box thinker in me decided to convince the security to make my entry in the register as Mr. Kulkarni's son. With such a common last name, it was impossible for the authorities to verify my membership. Of course I had to pay 10 rupees to the security every month in return of his favor", reminisced Mr. Shah. When there's a will, there's a way is what the businessman strongly believes in.
Mr. Shah undertook the initial years of schooling in a Municipality School where typically middle and lower middle class students studied. "I am thankful to all my school friends then because I believe it is they who made me non-judgemental and made me strong enough to challenge the conventions and rise above the ordinary", recalled the CA. He later joined MH High School and for higher studies went to Mulund College of Commerce. After degree, he went ahead to work with a reputed firm of British Chartered Accountants where he got an opportunity to work with the biggest national and multinational corporates. "While the friends in municipality school taught me to be fearless, a little brat (tapori is a right word), my british firm gave me a real good grooming and elan. So what you see in me today is a sophisticated international businessman from outside who is an absolute roadside tapori from inside.", he says with a smile.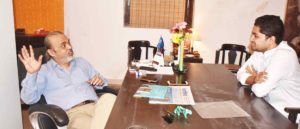 Though his job with the british firm exposed him to the best of the corporate world, it was not possible for him to match the lifestyle of his business associates with an entry level salary. "I used to fly all over India for meetings out of company expenses but when I used to be back, I would search my pockets for money to take a public transport. I did not know where I actually belonged to." So, in 1994, he decided to quit the job and start his own management consultancy practice.
Those were the days of beginning of liberalization and all global brands were making an entry in the Indian market. He quickly learnt about the nuances of retail industry globally and positioned himself as a retail consultant. Soon enough he has Nike, Reebok, Pizza Hut and the likes as his clients and this young chartered accountant was flying high with success. He gives a lot of credit of his initial success to the internet. "When internet was new and no one was very aware of it, I spent long hours understanding the retailing industry from the little information available online." Now,  how come a successful CA with global clients landed up in an education business? "Well. I was earning very well as a CA, but after all, it was a consulting job. Your ideas are paid well but weather they are implemented or not is not up to you. This was frustrating and therefore I decided to move from being a professional to a businessman where I will have the freedom to test my ideas." A colleague of his from those days was preparing for studying in USA for MBA. The suggestion of starting a study abroad consultancy came from him and he decided to pick that up, and FACT was born in 1998.
From 1998 to 2003, FACT grew leaps and bounds. "I was in my late twenties, early thirties. Unlimited amount of energy, hunger for growth and a rich business experience from the past helped me achieve phenomenal growth in those days. We started operations in Sri Lanka, Malaysia and New Zealand. The turnover more than doubled in every year. In these years my wife Sudha played a very important role in establishing FACT." says a nostalgic Shah while sipping coffee in his most elegantly and artistically appointed sprawling chamber. This is when an unexpected change in the immigration policy of New Zealand gave him the first taste of losses. The change in the policy made a lot of my clients unqualified to migrate to New Zealand and I was their consultant. I had to refund their fees totalling to about 80 lakhs which was a large amount in those years. Some of his competitors from those days closed their businesses and avoided the repayment but Sunil decided to honor his commitments which took him 3 years during which he also had to close many of his offices. "This was one of the toughest periods of my professional and personal life. I was broke and stressed but still motivated to get up again and make it big. I even drove taxi to destress myself and take a break from my life. Raj Kapoor was my saviour then as I spent a lot of my time reading about him and watching his films", described Mr. Sunil.
By 2006, all the losses were cleared and he learnt some important lessons of his life. He decided to go slow and enjoy the journey instead of driving full throttle towards his goals. This brought him closer to some of the artistic passions of his life, mainly music and films. It may sound unbelievable, but this maverick entrepreneur set up a rock band in 2006 and won a prize in Mood Indigo (the IIT Mumbai festival), took up a parasailing pilots license in 2007 and set up a film production company in 2009 in which he made 2 movies in Bollywood, the second one titled "Moods of Crime" also got an award in the Indian Cine Film Festival. That's some way of slowing down!
Today, he travels from one country to another every 5-6 days. He is set to open FACT offices all over the world. While his current portfolio includes 20 offices India, USA, UAE, Oman, and South Africa, his plan is to open 50 offices before he becomes a non executive chairman of FACT and goes back to making movies. When asked about retirement plans, he says "I don't believe in retiring only once. I have taken and will continue to take regular retirements. Whenever I work very hard for a week, I completely retire in the following week. What if I plan to retire at 60 and die at 59? It's better to play even with life. You never know what's in future!" He says with a smile.