By Vedanti Shinde
Have you ever heard of any hotelier who included 1700 dishes in his menu-to-be in the first draft?
Debarshi Basu and Sumit Mitra are an enterprising Bengali duo from Thane, and partners at Tummy Makeover. They had been planning to start their own franchise for the past three years, but only in 2018 did they finally make this dream a reality. While Mr Mitra is a fresher to this industry, Mr Basu has twenty-three years of experience backing him up. Both the gentlemen are enthusiastic about food and 'making people eat food'. Their biggest moral obligation is to be honest to the food and strongest belief is in authenticity.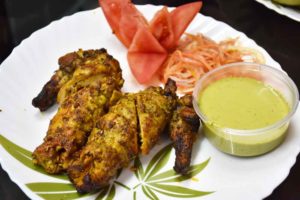 Thinking thoroughly of all age brackets and taste varieties while creating their menu, they have Indian, Chinese and Bengali food items. According to Mr Basu, their main USP is that their kitchen is equipped with their own tandoor. On the other hand, Mr Mitra believes that their most special touch is Bengali section guided by Mrs Bobby Basu, who also is from the same industry.
 When we sat to taste some of the Chef's Specials, we were flooded with enticing kebabs we couldn't wait to tear into. The King's kebab was a triple-layered beauty with shredded egg, chicken and mutton with a crispy covering of sesame seeds. It got slightly dry after a while and we recommended it be eaten hot and fresh. The Karela kebab is a stuffed variety, and no, not with Karela. It is named so because the kebab has a distinctive green hue and is shaped like a karela. Our favourite however, is the Shikari kebab. There six large pieces of absolute delight are cooked in some special masala that the chef wouldn't divulge the recipe of no matter how much we pleaded him to. We were left licking the plate for the masala once the kebabs were over.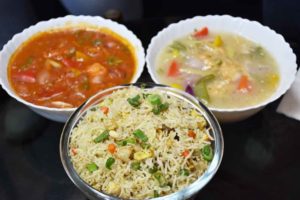 For the main course, we ate the Mutton Burra Chaap, which we urge everyone to try with the Rumali Rotis – one of the thinnest we've seen in a while. Get your fingers into the gravy and dig your teeth into the mutton chops like we did, and trust us when we say that messy is the way to eat this dish. A delightful touch to the Chicken Matka Dum Biryani was that the steaming biryani was served in the black earthen matkas in which it was cooked! We think Chef added his special secret masala in the biryani as well to make it hatke.
We also tried the mixed fried rice with Thai Red Curry and Chicken Lemongrass Gravy, as well as the Park Street Roll. But the Indian food simply stole the whole show away!
What's the rasgulla on top? They are inaugurate their restaurant on February 9, 2018 in Palatia, Hirannadani Estate. Another rasgulla on top? They hope to expand to Powai, Airoli, Vashi, and Kandivali areas in the coming years.