To pep up your mood, visit Lazeez-Good Mood Food
JUILI KULKARNI
The burgeoning Ghodbunder Road of Thane has added yet another feather to its cap, thanks to the opening of Lazeez – Good Mood Food last December. Mr. Puneet Mahajan and Mr. Ketan Desai set the ball rolling in an endeavour to woo the people of Thane with their sumptuous spread of tandooris and kebabs.
Introduced with the sole aim of tantalizing the taste buds, Lazeez has garnered tremendous popularity in Thane's Kasarvadavli and the nearby areas in the blink of an eye.Lazeez boasts of some lip smacking North Indian, and Chinese cuisine, and the Rolls that are offered at this ravishing restaurant are nothing less than heaven on earth.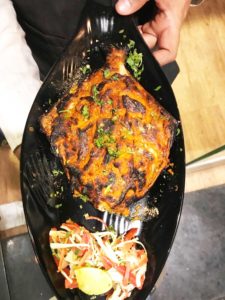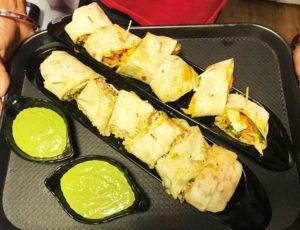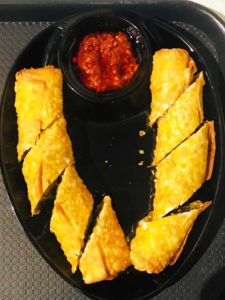 The rich repertoire of Lazeez consists of Nizami Rolls that are indisputably incredible and certainly out of the world. These Nizami Rolls are king sized and it will definitely take some serious appetite for one person to gobble this gigantic roll down. Apart from this, the kebabs served here are simply mouth watering, as they melt in your mouth, taking you on a delectable detour.  Murg Chakori kebab is one of the hot favourites of the people visiting Lazeez, and so is the Evergreen Tandoori Chicken (red) served in Afghani style (white).Zafrani Dahi ke kebab is one of the other interesting dishes served here. The tandoori items like Tandoori Pomfret, and Tandoori Chicken, are the other popular dishes in Lazeez. In addition, the mutton dishesare also relished by the non vegetarians here.For the veggie lovers, Lazeez specializes in Paneer Tikka, Vegetarian Kebabs, Exotic Vegetables in Garlic sauce, and authentic Thai curry with Rice. In the Breads' section, there are some unique options like Ulte Tawa ka Paratha, and Kashmiri Naan, alongwith the trending Cheese Naan.
Rearing to go to Lazeez, right? But, wait, it is not done yet. Is there anything that can sum up your extravagantly sumptuous meal better than Honey noodles with ice cream? After luring the taste buds with mouth watering tandooris and kebabs, Lazeez presents a delicious dessert to bid adieu to its customers on a sweet note, only to meet them again.
Perhaps, the food at Lazeez is unequivocally one of the best in the city of lakes, and has a definite ability to pep up your mood. Lazeez – Good Mood Food is a proud house to classic decor that makes this place stand out among the other outlets that are present on the hustling and bustling street of Ghodbunder. Add to this the friendly and cordial staff with lightning quick services, and Lazeez becomes the ultimate destination to satiate your gastronomical needs.