RESPONSE TIME IS WHAT MATTERS!
Taking challenges in his own stride, is perhaps what makes Thane's Top-Cop Mr. Parambeer Singh stands apart. Exuding confidence while handling one of the biggest commissionerate, Mr. Singh has a clear picture of strategyin delivering goods. He doesn't rue an inadequate force, but feels that deploying technology will resolve problems. The  police commissioner speaks with Managing Editor of Know Your Town Mr. Nikhil Ballal
The rampant attacks on policemen have become a matter of concern. How do you perceive it?
True to our motto 'Sada  Rakshanaya Khal Nigrahanaya' of Maharashtra police,we tirelessly work round the clock, under the  umbrella of its constant vigilance and efforts, that citizens live law and orderly peaceful protected lives. It is very saddening that some power drunk miscreants dare to attack our force. We feel sorry for such maniacs. Within the purview of law we will come down hard on them. The case involving the brutal ruthless assault on a  policewoman by a politician , has been fast tracked and is headed by two lady DCP's. The wider civil society has unequivocally condemned these acts of such maniacs and has offered their support to police by conducting rallies.
How have been the two years in Thane?
Thane is an extremely challenging city. Managing a commissionerate which has more than one crore population, spread over four corporations, two municipalities, with three national highways and JNPT vehicles passing almost 24X7, it is really stressful. But my subordinates have given a good performance under the leadership of our officers Joint CP Ashutosh Dumbre has been a great support and so does the crime  DCP Parag Manere. We have cracked some sensitive cases in the nick of time. The recent one was the nine crore Check mate robbery which was solved  in two days flat.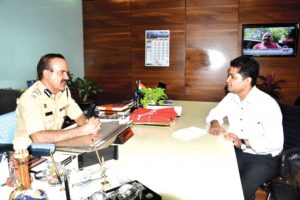 Don't you think police force is understaffed to manage Thane?
Since police is not a development subject, it is bound to get neglected as far as recruitment is concerned. We have sent proposals to state government regarding recruiting personnel to enhance the strength of our department. We are hopeful to get affirmative response. In order to be effective I feel there is need to upgrade our skills of our personnel together with and use of technology for which we regularly undertake training sessions for our workforce.
In association with TMC and Collectorate office we are installing 2000 CCTV's in next six months, out of which 100 are already operational. This will help us to keep a track of entire city with ease, day and night.
Are you taking any special efforts to improve response time?
Yes. We have recreated our control room. Thanks to DPDC and local MLA's who gave funds, it is now equipped with state of the art infrastructure developed on the lines of Navi Mumbai and Bengaluru control rooms. There are different help lines catering to different people and problems. For instance, 1090 is for senior citizens,103 for children and women safety, 100 and 25443535 are our control numbers for general public.
Our response time which was earlier 13 minutes has come down to eight minutes. We have a separate social media cell which looks after the facebook, twitter and whatsapp of police. We have a dedicated team which updates social media on regular basis.
We can see the movement of each and every beat marshal on the screen.
What are the present day challenges in front of you?
Though white collar crimes and violent crimes have always been our biggest challenges, off late cyber crimes are also on the rise. Last year we received more than 5000 cyber crime complaints. To tackle these crimes we recently inaugurated a cyber lab. Usually police stations don't have the technical know-how to investigate these crimes. Our lab gives technical assistance and other resources to the police stations in investigation. Traffic discipline is also one of the major challenges. Every day we receive numerous complaints against reckless auto drivers. We are experimenting different ways to inculcate discipline in people. Recently, we distributed Thank You cards in association with an NGO to law abiders. This motivates others to follow law.
Tell us about operation Kartavya which was inaugurated at the hands of Sachin Tendulkar?
It is a service dedicated to senior citizens. Senior citizens who are alone and feel insecure should call us on 1090. We reach out to them and ensure their well being. Our beat marshals constantly monitor these people. In first 45 days, we have received more than 400 calls. We are happy that people are giving good response to it.
As mentioned earlier about importance of technology, we have developed a suite of applications to cater to different situations. Prominent apps like 'Pratisaad' for women in trouble as well as our app 'Hope' is getting very encouraging response.
Chain snatching, robberies have increased over the years. What is Thane police doing to stop them?
When I took charge of Thane the chain snatching cases were alarming; I decided to bring them down and ensure women safety. We have been successful as these cases have gone down by 80%. In 2015 till 31st August, 672 cases were registered out of which 269 were detected, this year we have been able to reduce chain snatching cases to 250 with commendable achievement of 50% detection rate. I feel that is a good performance by my team. Robberies are also down by 50% than previous year with 53% detection rate.
Our detection rates in murder, dacoity, kidnapping and molestation cases have improved.
Are you satisfied the way your career has shaped?
I am a third generation civil servant in our family. We have a strong academic environment in our family. I hail from Chandigarh and topped in Punjab University in MA.  If you ask me what made me chose IPS, then I feel it is the only realm where you can give instant justice to people. The other attraction of course was the smart uniform. I love wearing it. Before joining police I was working with Customs.
I am satisfied the way my career has shaped so far. Our duty involves lot of sacrifices and compromises but I have enjoyed every moment of it.  I try to de-stress myself with yoga, meditation and playing sports. I love playing squash and cricket.
Family life does get disturbed as I am staying away from my family but that is part and parcel of this job. Our families have also been very supportive.
What are your future plans?
I will continue serving Thanekars as best I can. We have worked fearlessly without any pressure. As everyone has seen we have booked big fishes including municipal corporators in past. We will continue to do so. We will come down hard to curb the crime rate in city.