Juili Kulkarni
The answer to one of the most trending problems of finding good homes and not just houses made of bricks in and around Mumbai is none other than Rutu Group. Envisaged by a man with vision, Rutu Group was born in 1970. Mr. Pratap Patel, a civil engineer from VJTI was the spearhead. Before diving into starting his own business, Mr. Pratap Patel worked as a government contractor and gained tremendous experience by building roads, canals, tunnels etc. in 1960s. Carrying this bounty of experience and knowledge with him, Mr. Pratap Patel set his foot to establish his own brand of construction under the banner of Rutu Group.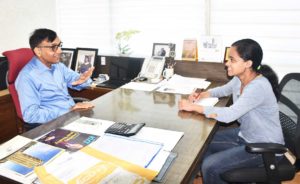 Since its birth in 1970, Rutu Group has scaled one peak after the other and has carved its name on the real estate market. The business has smoothly transitioned to second generation, and the baton is now held by the sons of Mr. Pratap Patel. Civil Engineers by education, Mr. Mukund Patel and Mr. Mukul Patel have left no stone unturned and are striving day and night to continue the strong legacy of their father. Rutu Group is one of the perfect examples of good succession planning, as the father has systematically divided the work between the sons. Mr. Mukul Patel is responsible for the construction in Mumbai suburbs, and Mr. Mukund Patel is in-charge of the construction activities in Thane and beyond.
Rutu Group is inching closer to its golden jubilee. In these years, it has not only enjoyed success but also weathered the storms during its prolific life. Rutu Group believes in innovation. "During my father's time, it was fine to build standalone buildings and make the customer happy, but today, in order to satiate the growing need for community living, we have to focus on developing housing complexes which boasts of state of the art facilities like swimming pool, garden, gymnasium, etc.", explained Mr. Mukund Patel.
Providing one of the basic necessities of life, i.e. shelter to over 10,000 families, Rutu Group has done a phenomenal job. "The houses that are offered by us are spacious and close to nature. Every house has atleast a six feet balcony which is worth the price of gold in today's competitive world", averred Mr. Mukund Patel. Rutu Group delivers what it promises and strives to meet the customer expectations. "You will be surprised to know that we have customers who work for different real estate players but prefer to stay in a Rutu home. This is one of the biggest compliments for us", exclaimed Mr. Mukund Patel.
Apart from providing housing solutions to people of Mumbai, Thane, and Kalyan, Rutu Group believes in giving back to the nature. Mr. Mukund Patel is a nature lover, which is evident from the fact that he himself prefers tostay amidst the nature and not in a plush apartment. The recent drive of Rutu Group was focused to have a plastic-free society. They started this drive from their very own Rutu project, and distributed cloth bags to the residents. Half marathons were organized to spread the awareness about cleanliness under the umbrella of Clean Kalyan, Green Kalyan. "Though this might seem to be a drop of water in the ocean, if each of us contemplates to do something for the nature, it will be enormous", said Mr. Mukund Patel.
Serving the people for close to fifty years is no child's play. With each passing day Rutu Group is not just growing as a business but as an institution that wants to give back to the nature. Be it the use of eco-friendly materials in its construction or giving a feel of nature to its customers, or the luxury of being strategically located in the city, Rutu Group had and always will strive to strike the perfect balance between modernity and serenity.