Piramal Realty – Building Spaces that Enable You to Thrive
By KYT Team
Founded in 2012, Piramal Realty is the real estate development arm of the Piramal Group. With over 15 million square feet of commercial and residential projects under development in prime areas of Mumbai, Piramal Realty aims to be India's most admired real estate companies by setting gold standards in Architectural Design, Quality, Safety and Customer Centricity.
Goldman Sachs and Warburg Pincus, two international equity partners, invested ~US$ 434 million in the company, at the entity-level, making it one of the largest private equity investments in Indian real estate. Piramal Realty has collaborated with internationally renowned partners for the design and development of its projects that embrace a more intuitive definition of luxury, while celebrating nature, art, culture and community living.
Piramal Vaikunth, Thane
Piramal Vaikunth, our flagship community development, is nestled amidst 32-acres of sprawling greenery in Balkum, Thane. Designed to sustain a fulfilling sense of community living and provide a deeper connection with nature, Piramal Vaikunth offers residents both the raw simplicity of a natural habitat, alongside the plush comfort of high-end living. With a slate of 2 & 3-Bed residences, duplexes and townhouses, each built to suit the needs of every family. The landscape boasts of state-of-the-art amenities such as a proposed 2.75-acre ISKCON Temple & Spiritual Learning Centre, Multi-Purpose Court, Gymnasium, Swimming Pool, Kids Pool, Bicycle Path, Café's & many more.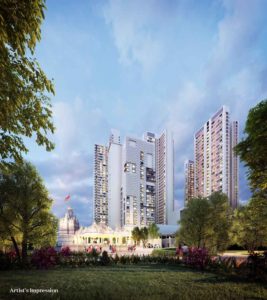 Piramal Vaikunth is designed in collaboration with international partners such as HOK, BuroHappold, DSP Design, Sytra MVA Consulting (India) Private Limited, Turner Project Management (India) Private Limited, Shapoorji Pallonji & Lerch Bates.
Piramal Aranya, Byculla
Piramal Aranya, our signature development in Byculla, is flanked by the lush 60-acre Botanical Gardens on one side and the glittering Mumbai Harbour on the other. Built across a landscape of 7 acres, it offers residents a new perspective on premier living.
Piramal Revanta, Mulund
Piramal Revanta, our contemporary luxury development, is built across a landscape of ~12-acres, in the new cultural, financial and commercial heart of Mumbai – Mulund. It provides residents with state-of-the-art amenities and a trove of athletic facilities, offering them an opportunity to thrive and prosper.
Piramal Agastya, Kurla
Piramal Agastya, our state-of-the-art corporate park, is built across a 16-acre landscape, in Mumbai's business district, Kurla. It offers a unique business address with premium offices that are truly beyond expectations.
For more information on our developments, please visit piramalrealty.com or call +91 22 6216 6216