Nikhil Ballal
Heredity usually plays a pivotal role in determining the career of children. Do you believe in this?
Personally speaking, I completely believe that heredity and genetics have a significant role to play in determining the career of children. My father was a Copy Writer and ran his own advertising agency. You will agree with me that copy writing is one of the most creative professions, and it really requires the copy writer to wear the Green Hat, the hat that induces creative thinking. Like father, like son. I can say that I took the creative blend of mind from my father. In the early stages of my life, I was active in dramatics, which I am sure most of the readers will agree is a creative field. After that I was interested in learning classical music. Slowly, I acquired proficiency in playing harmonium and gained mastery over the instrument. From career stand-point, I started off as a Music Director, and gradually untapped the different opportunities like singing, hosting and judging shows, that came my way. If I look at my work, unequivocally it is a creative piece, and I have no second thoughts in affirming to the belief that heredity plays a significant role in determining the career of children.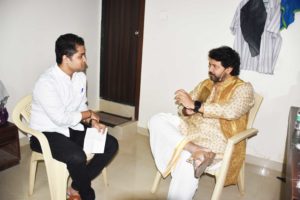 What made you choose music direction over other things?
I could have tried my hand at singing right at the initial stage of my career, but nobody gave me a chance to sing (jokingly). That's why I decided to be a music composer. I was a good harmonium player and had the right ingredients to cook the musical dish.
 How did you explore the Film Director in you?
As a part of my job, I had written the songs of the movie "Zenda". However, to discover my hidden talent, I decided to give script writing a shot. I approached Sachin Pilgaonkar with my story. To my surprise, he fell in love with my writing and with no second thoughts, immediately asked me to write and direct the film. This is how my journey as a film Director commenced.
 Since you have been a judge in reality shows, what is your take on them?
The talent that comes out of reality shows is like hot money. Just like the hot money provides benefits to the markets in the short term, the talent emerging out of reality shows behaves in the similar fashion. It is important to note that there could be some anomalies, but more or less, the winners of such shows find it difficult to sustain in the fiercely competitive industry. There is paucity of initial struggle that is required to convert a common man into a star in the DNA of the reality show winners. The heroes of such shows take a shortcut and refrain from traversing the rocky path that leads to success. I may be wrong but it is important to understand that these winners are selected by the people, which include both, experts and novices.
Tell us about your love affair with the Marathi language      
Marathi language is extremely close to my heart. Right from my childhood, I have been an avid reader of Marathi literature, and I feel that those readings have had a solid impact on my career. I grew up reading Tukaram's abhangas (devotional poetry) and gained a decent level of comfort with the language. My comfort with Marathi language has been the driving force which has inspired me to be a craftsman and come up with words like lagnalu and chabuk.
 What message would you like to give the budding generation who wants to make big in Marathi film industry? 
I have a very simple and straight forward message to those who are eying an entry in Marathi film industry; if you feel you could be the next Avadhoot Gupte or Ravi Jadhav of Nana Patekar, then please don't endeavour to make it big in this industry. Only if you feel you are different and you can offer something new to the industry, then you will be most welcome in this world of glamour.