By Nikhil Ballal
After working for close to three decades, there is this gentleman who is still willing to traverse that extra mile and leave a lasting impression on the society. Most of the people, who are inching towards retirement, may think of a relaxed and peaceful life. But here is an anomaly. There is a man who is living a reverse life style. At the age of 58 he is bubbling with energy, and carries oodles of enthusiasm with him which is evident from the fact that he always wants to do something new. Dr. Mukesh Udani, founder of Thane's oldest blood bank Navjeevan talks about his journey as blood banker and his future plans as a secretary of one of the reputed educational institutions of Thane – Saraswati Vidyalaya Prasarak Trust (SVPT).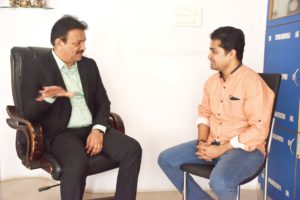 Dr.. Udani who hails from a humble middle-class Gujarati family always wanted to make big in life. He was a meritorious student right from his childhood and there was hardly any doubt in the minds of his family that the Udani scion will easily get a seat to pursue medicine. His father being a senior clerk in local corporation and mother a home-maker, Dr. Mukesh knew he had to strive to support his educational needs.  Sincerity and hard work made him the blue-eyed boy of many professors.  It was only because of his dedication and determination that he was blessed with an opportunity to work with one of the biggest labs in Ahmedabad at a tender age.
Ahmedabad is a hot city and when it comes to sleeping at night without an air-conditioner, it is really difficult. "My friends would insist me to take night shift so that they could sleep in air-conditioned lab", laughs Mr. Udani. This bane turned to be a boon in disguise for Dr. Udani. Singlehandedly, he managed the entire lab at night. In case of casualties and emergencies he was always on toes. He was vigilant in delivering accurate blood to needy patients in and around thane. He knew one error of him would not just spoil his career but more importantly will cost a life and ruin a family. At a very young age he attained a lot of maturity and became more focused.
Mr. Udani aspired to go abroad to make a career. But destiny had something else in store. When he came to Mumbai he happened to meet Dr. Mhaskar of Thane. Dr.Mhaskar realized the potential of this young pathologist and offered him to start blood bank in their premises. As it was the only computerised state of the art blood bank and lab in Thane vicinity, people from far off places would travel to the bank to collect blood for needy patients.
Dr. Udani has been a savior of Thane, courtesy his noble profession of a blood banker. Just like we have money banks acting as storehouses of money, Navjeevan houses one of the most important commodities; blood. His blood bank has saved many lives by supplying blood to the people during catastrophes. Along with Dr. Mhaskar he founded Navjeevan Blood Bank in 1988. During those days there were just two blood banks in Thane, being Navjeevan was born.   Dr. Udani being a visionary harnessed the available technology and formed state of the art blood bank and computerized laboratory.  Within no time this bank garnered tremendous popularity because of its 24*7 availability.
You know how fatal a wrong blood transfusion can be! In the last three decades, Navjeevan holds an incredible record of committing zero error. Dr Udani has been tirelessly working hard to save lives by providing them right blood at right time.
Navjeevan Blood Bank is one of the major components of a hospital, concerned with various activities including donor registration, physical examination, blood grouping, blood infectious tests, component separation, blood requisition and cross match. The Blood Bank module provides ready information about blood reserve/stock, daily cross-matched details, total daily blood requisitions and information regarding blood and donors. Major functions of a bank are Registration of Donors, Blood Donation, need based request processing (Fresh Blood and Stored Blood) cancellation, returning of issued blood bags, transfusion details, sterility investigations and discard details, and inter-bank transactions.
Initially, it was like a one-man show but slowly and steadily, Dr.Udani built his team, who would take care of the regular chores. He then started focusing on business development. "When I came to Thane I neither knew people nor the local dialect-Marathi. For any business one has to be social, I starting socialising with Thanekars and soon became a part of Thane family", smiles Dr. Udani. "I am happy to share with you that in the last three decades my blood bank has served more than 5,00,000 patients", adds Dr. Udani.
"I attribute my success to the education that I received when I was young. I realise that just like me, there are millions in this world who would want to make big. Education is the stepping stone to success. So, I have decided to devote the rest of my life to education", says Dr. Udani. Late Mr. Laxmikant Vasavada, Mr. Girdhar Patel and Late. Mr. Chandru Mirani got Dr. Mukesh inducted as one of the trustees in SVPT in 1995. He was promoted as the Treasurer and currently he is the Secretary. Under the able aegis of a visionary chairperson Mrs. Meera Korde, SVPT is carving a niche for itself in the field of education.
The future and overall development of any country depends upon the fact that how educated its citizens are. "To be a smart city we need to have smart citizens. We at Saraswati Vidyalaya are working tirelessly to improve the curriculum and scope of academics with finesse. We are playing a pivotal role in empowering students to excel in our dynamically changing world", adds Dr. Udani.
Currently SVPT is the only school which is a 100% digital school. It has smart boards in all classrooms offering smart education.  The Secretary avers, "Our school is known for quality education and academic excellence. Our institution offers a unique range of world-class educational services for the holistic development of students in curricular and co-curricular areas".
Along with academics, SVPT endeavours to make their students better human beings. The students are encouraged to participate in various social initiatives which facilitate all-round development of the students. For instance, during the times of natural disasters, SVPT as a school collected relief fund and gave it to the government. Recently, SVPT decided to "Say 'NO' to plastic" by promoting cloth bags along with Thanevaibhav. The initiative was inaugurated by Minister Shri. Ekanth Shinde.
"The most successful people in life exert discipline on a daily basis. It is vital to every living being and without it; the world around us would be chaos.  Discipline brings stability and structure into a person's life. It teaches a person to be responsible and respectful. At Saraswati my main focus has been in imbibing discipline. We also consider it as our duty to collect relief fund to help our fellow Indians during crisis", adds Dr Udani.
Education industry is constantly evolving. The advent of technology has opened plethora of opportunities for both, schools and students. Today, parents can select from varied boards like the State Board, CBSE, ICSE, IGSE and IB for their children according to their requirements. Also there has been a shift from textbook to practical learning leading to a better understanding of subjects. "I feel this is a great change and will definitely lead to shaping a child's personality from a younger age. We as a state board school have adapted to almost all new trends that matter in the field of education. We are proud to say that our efforts have been appreciated by the society as we have a solid inflow of admissions every year. Due to overwhelming response at Rabodi campus, Ghodbunder residents demanded a school in their vicinity. Eight years back we started a school in Ghodbunder at Kavesar.  Unequivocally, our junior college infrastructure and faculty have been as good as any Mumbai college", exclaims Dr. Udani.
Education is a movement from darkness to light. As it is rightly said, "One additional classroom shuts 10 prison rooms". Dr. Udani concludes, "We are happy to have great alumni who have created a mark on global map.  I have decided to dedicate my second innings of life completely to education. It not only gives you satisfaction but also makes you feel young at heart. Though I have turned 58 I feel like celebrating birthdays in a reverse way. Age is just a number it is what you feel from inside. Next year I might celebrate my 57th birthday".