Let's embellish our homes with Shripad Home Décor
JUILI KULKARNI
A house is made of bricks and beams, a home is made of love and dreams. To garnish our nonchalant abode, Shripad Home Décor is unequivocally one of the best go-to places in Thane. Started in 2010 by Mr. Veerendra Negi, an Interior Designer by profession, Shripad Home Décor has become a household name in no time.
Located in the fast paced developing area of Anand Nagar, Ghodbunder Road, Shripad Home Décor has catered to a plethora of august clients like Lodha, Hiranandani, and Ashar, among many. The store specializes in home décor and its rich repertoire consists of home interiors, modular kitchens, and bathroom renovations, to name a few. As far as quality of the product is concerned, Shripad strives to offer the best of the best products to its clients. Jaguar, Johnson, Kajaria, and Sir Hettich (kitchen accessories) being some of the renowned brands in the home décor segment find a place in Shripad Home Décor. In addition to this, the store is one of the leading distributors of Elica Chimneys and Hobs in Thane.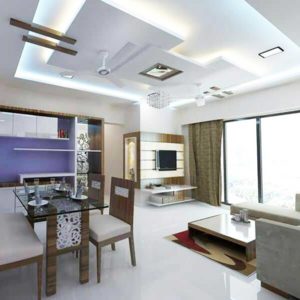 The collection at Shripad is one of the best in the city, thanks to the innovative products that are designed by Mr. Negi and co. The beautiful designs are coupled with use of premium ply to give a world class home décor options to the clients. The products offered here are not only made to please the eyes but also made with some thought. For instance, the use of waterproof ply with machine press for kitchens is one of the unique selling propositions of Shripad. "We also do very innovative and attractive designs for concealed ceilings", stated Mr. Veerendra. The use of glass wood, designer wood, antique stones, charcoal wood, and zinc for decors, sets apart Shripad from its peers. The store is powerpacked with beautiful colours, and is indeed a splendid spectacle.
The affluent collection of home interiors, bathroom accessories, and fittings at Shripad is augmented by the warm and cordial employees working relentlessly to meet the client expectations. The skilled staff deals in a professional way and leaves no stone unturned while catering to the clients. 3D designs are shown to the clients, which gives them a fair idea about the actual product. The variety at Shripad is overwhelming, and it houses myriad products tailored to suit different budgets. The delivery mechanism is prompt as well.
Shripad Home Décor is like a one stop shop essentially designed to take you across the bridge that often lies between a house and home.
 Address: Kris Korner Commercial Plaza, Ground Floor Shop no 6, Behind Muchalla, Collage, Near Saraswati School, Opp. UCO Bank, Ghodbunder Road, Anand Nagar, Kavesar, Thane (W).
Phone: 098920 45733