Khaana Firangi, Andaaz Desi
JUILI KULKARNI
Located in the vicinity of one of Thane's most famous lakes; TalaoPali, Dhaba Café is a must visit for people coming to the City of Lakes. Owned by a young and dashing airhostess and woman entrepreneur Mrs. PriyaMayuresh Joshi, Dhaba Café boasts of a serene atmosphere, courtesy the calm in-house lighting, soft music, smart décor, comfortable seating arrangement, and friendly staff. Apart from its lip-smacking food, Dhaba Café takes utmost care of its customers as it houses books for the avid readers and board games for the gaming wizards. This Café is one of a kind set-up in Thane and is enjoyed by children and adults alike.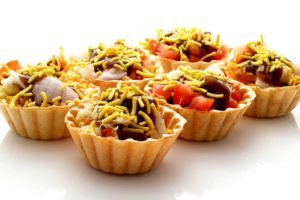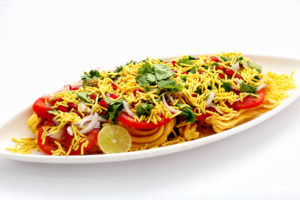 Dhaba Café believes in serving Western food with Indian style. Their tag line; "We serve Western food with Indian attitude" is catchy and quickly strikes a chord with those who are willing to expose their taste buds to a different taste. Just five months old into the business, Dhaba Café has already garnered tremendous response and there is seldom any doubt that people have accepted this innovative concept gleefully. Some of the popular dishes of this Café are paav bhaaji bomb, paanipuri shots, and katorichaat. These dishes are blessed not only with interesting names butalso with amazing looks and tastes. Paav bhaaji bomb is an exotic baked dish, in which the paav is cut in the centre, stuffed with cheese and is then overloaded with bhaaji, which is again covered with cheese. This delicious looking bite is baked and then served. Another innovative dish is the Katorichaat, which is served in Waffle Cone.Paanipuri shot is a big hit among the youngsters, as they get a feel of vodka/tequila shots, while actually having the different flavours of paanipuri. Apart from these unique dishes, Dhaba Café serves Maggi in 16 types, some of them being Paanipuri Maggi, Paav bhaaji Maggi, to name a few. Pizzas and Pastas are also available, ofcourse not in the typical style, but in unconventional form.Dhaba Café has something in store for its tea lovers as well. Nawabi Tea, which has the paan (Betel Leaf) flavour is a popular choice.
Dhaba Café opens at 11.30am and continues to serve its customers till 12 at night. The Café is flooded with foodies over the weekends, and during the weekdays, the food lovers visit the Café to enjoy special offers which include but is not restricted to "Buy 1 Get 1 Free" on many of the dishes. To enjoy firangi khaana in desi style, a visit to Dhaba Café is must.