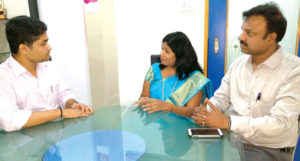 Nikhil Ballal
A  Chennai woman settles in the remote interiors of Thane and dares to open an English medium school in the midst of community about whom she knows nothing. Language was a barrier. It was only because of her children's need and her husband's desire; she risked to start an academic venture. The school which started with just three students today has grown to 2000 strong. Dr. Shobha Daniel who proudly leads the institution has indeed surprised many.
Seldom have you seen a principal singing, dancing and jumping with students! For Mrs. Daniel, this is a daily routine. More frequently you will find a guitar in her hand than a stick. At Sunshine school in Kalher, one gets to see a very different picture. Unlike other schools, here the kindergarten children cry when they leave school and secondary students never suffer from Monday blues! All thanks to the energised bunch of teachers and their ever enthusiastic leader.
For people who are wondering how this lady from the south landed up in remote Thane, it's a very interesting story.  Her husband, who once accidentally happened to come to this part of the world, liked the area so much that without a second thought decided to buy a house there. It was vacant for many years until he shifted to Mumbai.  Kalher was so in the back of beyond those days that his parents called it 'Andaman and Nicobar'. Connectivity was poor and the only bridge linking it to Thane was in a pathetic state. During monsoons, things got worse.
Students had no option but to travel by this bridge teeming with heavy traffic, to reach their schools. Many would prefer staying back home on really rainy days. Seeing this, Shobha decided to start a school in Kalher itself. Initially no one encouraged her, as she was new and hardly knew the people, their languages, culture, customs and traditions. But she was firm. She knew her school would rescue many from their difficult situation.
Her gumption turned right. Gradually, people started approaching her. Though they didn't know each other's language, there was no communication gap! "We communicated through expressions", says Dr. Shobha. "When I mingled with this community my opinion changed. In no time, I realised my pre conceived notions were wrong. They are such loving, trusting individuals, the likes of which are hard to come by these days, adds Dr. Shobha. They not only en trusted her with their children but left no stone unturned in helping her to develop such a big institution.
"I don't buckle under pressure or differentiate between children of local politicians or the ordinary. The community would send children wearing jewellery but I would convince them politely not to do so and they readily accepted.
Some would restrict their daughters from dancing in annual gatherings. 'I am happy to say that today the picture is different. One of our student has become a dancing star and has brought many laurels to the school'   says Dr. Shobha proudly.
Being affluent sons of the, soils some were bound to become complacent in life. They were not eager to pursue education. At our annual gatherings, you will find hummers, range rovers and all those cars which are the privilege of the high and mighty. At times it becomes difficult to make way for my small Verna(smiles), says Dr. Shobha. But despite this, we have kept them grounded.  In the last decade, Daniel has not only created awareness but also saved many from going astray.
Daniels has created a place for herself in the hearts of all villagers. Today, this village has changed. After seeing the success of Sunshine, many schools tried, but not one could shine. Sunshine is going strong and is soon to move to a bigger campus.