Kalamandir : Where art is available in yards!
Every person from Thane can tell you where Kala Mandir is and what's it's famous for: saris. Established in 2004 by Mr Alpesh Chavda, Kala Mandir has now become an iconic landmark of Naupada for all Sari enthusiasts. Excelling in all varieties of saris like Kanjeevaram, Gadhwal, Paithani etc they've also diversified into other readymade clothing in last few years. In fact you name a variety and the shop has it.
With the wedding season going on, Mr Chavda observes that a majority of his audience is Maharashtrians. They prefer traditional silk saris, he says.
Mr Chavda entered this business soon after he finished his schooling. He gained his experience over working for other businesses and growing to become a business partner. Eventually, he decided he must have his own brand. And 'Kalamandir' happened.
He personally spends time in the smallest villages and meets the artists. This helps him to understand the art in depth as well as supervise and guide the artists towards the customers' taste.
Kala Mandir has recently enlarged their sari collection to include the versatile Navari ( nine yard),  popular among those who are fond of ethnic clothes.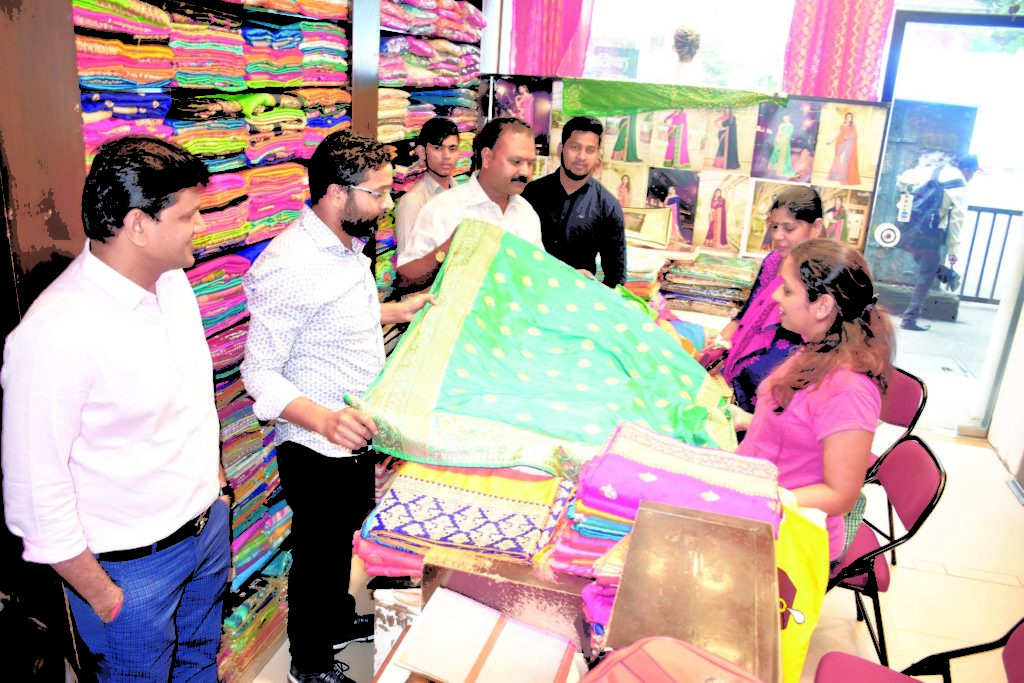 Kala Mandir has become a leading brand mainly relying on mouth to mouth marketing with their customers vouching for the quality. Customer Service is the most vital focus of Kala Mandir's team. Their team of over fifty sari experts are trained frequently on the importance of customer service, knowledge of the art as well as different materials used to make saris. The team at Kala Mandir pride themselves in providing all the services subsidiary to a sari – from fall beading, blouses, alteration and home delivery.
 It is this holistic satisfaction that Kala Mandir provides to their customers which keeps bringing their patrons back to this iconic brand. A customer leaving with a smile gives us a sense of achievement. We can go an extra mile for that smile, Mr. Alpesh quipped.
– Vedanti Shinde