Nikhil Ballal
4000 interviews and still counting. This is the current total of the interviews taken by the first commercial interviewer of Maharashtra and unequivocally one of the best interviewers of all time; Mr. Sudhir Gadgil.Isn't it rare to see someone making a living by taking interviews? Mr. Gadgil broke the conventional shackles of a 9 to 5 job and ventured into an almost untraversed territory of being an interviewer by profession. It has been 37 years that Mr. Gadgil is smoothly sailing through the otherwise rough sea of freelancing business.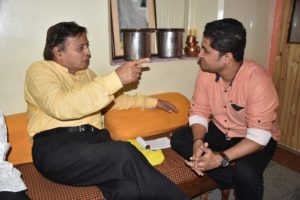 Having studied Costing during his college years, the renowned interviewer had dearth of interest in that field of study. He was more interested in public speaking and was very clear that he would earn his bread and butter through a profession that involved a lot of public speaking. He therefore took up journalism, which would take him closer to living his dream life. The eloquent interviewer did an internship with KesariSakal during his journalism days. "That experience was extremely useful and I gained tremendous amount of knowledge, courtesy my internship stint with KesariSakal", said Mr. Gadgil. Having completed his journalism, the celebrity interviewer headed Kirloskar's Yuva magazine. "Heading the Yuva magazine gave me a lot of confidence", averred Mr. Gadgil.
After spending a decent amount of time as an employee, the commercial interviewer decided to take some risk. He returned his platter filled with comforts to his employer and made up his mind to do freelancing.Mr. Gadgil's decision did not go too well with his family members and they expressed their concern by warning, "Every month you should get your salary through this bug of freelancing that has bitten you". He empathized with his family members and was determined to fulfil their condition.
Once he set his foot on the interviewer business ground, there was no looking back. He interviewed illustrious people from politics like Bal Thackeray and Sharad Pawar, not just once, but as many as 18 and 16 times respectively. This is a record that any Indian is yet to break.Adding to this list, he has also interviewed one of the most beautiful ladies of India; Madhuri Dixit, for five times. Among his extra-ordinary list of interviewees, his all-time favourite interview is that of Mr. ShantanuraoKirlosar.
Mr. Gadgil reminisced, "Asha Bhosle once told me to never hesitate while asking for money when you are determined to provide quality". This thought of Bhosle is inscribed in Mr. Gadgil's mind and he owes his success to the legendary singer. Just like a top boss of any company, the celebrity interviewer is making it big and is occupied five out of seven days of the week. He has spread his wings abroad and has already visited countries like USA, New Zealand, Mauritius, France, Australia, to name a few, and enthralled the audience with his impeccable interviewing style.
Apart from being an absolutely delightful interviewer, Mr. Gadgil dons several other feathers on his hat, some of them being, copy writer and author. He has already authored eight books. He is not only proficient in Marathi but also in English, which is evident from the fact that he has done 25% (1000) of the total interviews in English. He appeals to the Marathi audience, "Marathi people should never be afraid of English". His exemplary service to Marathi language and knowledge creation by way of conducting free-flowing interviews is indeed commendable. Mr. Sudhir Gadgil is indeed an epitome of the metaphor "Thinking out of the box".