Here style, elegance and vogue meet?
Vedanti Shinde
The concept of boutique was ushered into Thane in the year of 1974 by Mrs Savita Dhir. Back then, it provided exclusive clothing in novel materials that Thane had never heard of before. Ever since its inception, Guddi's has always been on Thane's MG road and it is pride of Thane. Mr Rajesh Dhir, the current owner of Guddi's, joined his mother's business in 1988. He substituted her place at the boutique for two weeks, but even after she returning back from vacation he had no intention of ever going back.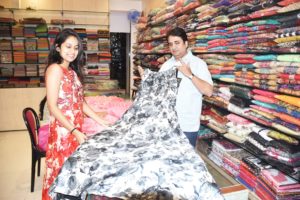 Mr Rajesh Dhir is a software engineer with no background in business or clothing when he started, except his father who was into textiles and his mother, who always guided him. She herself had started this business to avoid idleness and her knack for business and design soon made her venture into a successful business. Mr Rajesh steadily expanded the business over the years to be more incorporative. In 2000, they opened Guddi's Collection – an outlet specific for their female clientele while the original Guddi's boutique housed their children's collection. Not only did they add this outlet to their brand, but also many variations in the products available at Guddi's like Sarees ,u stitched dress materials, salwar kameezs, Kurtis, night wear, scarves, stoles, duoattas, etc. Within a year, the business started customizing clothing for their clientele . In October of 2017, Mr Dhir shifted his entire operations to a bigger and better place for Guddi's Collection. They added evening gowns, exclusive blouses, chaniya cholis and a multitude of wedding wear. This move aids them to cater to their clients better, says Mr Dhir. They now have bigger office space, an area reserved for immediate alterations to be made, private washrooms, ample parking and even elevators that the customers can use. Out here they are open 365 days so that they can serve their clients throughout.
Guddi's has a specialized team of people trained to give personal attention to all clientele . Mr Dhir says that the backbone of his business is in truthfulness, authenticity and trust They always freely give information and knowledge about the cloth, how it is made and how to best take care of the cloth. Addressing these little concerns make the relationship with their customers friendlier and warmer than usual. Guddi's has extremely loyal clientele with the third generation now shopping with them.
It is labelled as a high-valued shop, but Mr Dhir doesn't mind it. However, Guddi's holds sales every year. Their first sale of the year is in January which lasts for 15 days. However, for the past 44 years, Guddi's has been holding their one month long annual sales starting on third Friday of July every year.
Due to these unique characteristics it makes Guddi's close to everyone's hearts For years now, Guddi's has been creating specialized wedding trousseau's for their clientele based on budget, theme, need and current trends. They start from showing samples to fancy packing of the trousseau, and everything in between. Recently however, they have started doing something different. They create the complete customized wardrobe based on the newly wedded couple's honeymoon destination which makes the trousseau travel savvy and equipped with outfits necessary for all possible honeymoon destinations.
Now they have ventured out into event management and their companys name is WOW and they specialize in weddings and destination weddings also. Apart from wedding they take up all kinds of events