Grow your Kids like none other than the Growing Kids
Juili Kulkarni
Is there a better sight in the world than seeing a group of tiny tots cutely playing with each other and innocuously learning their ABCD? This lovely picture is captured perfectly by Growing Kids Pre-school which is located at Anandnagar, Kasarvadavli, Thane.
Founded by Ms. Hema Bhatt on the auspicious date of 11-11-11, Growing Kids has literally grown by leaps and bounds. Bhatt, who has done M.Sc in Biochemistry and has a bountiful experience working in Corporate as well as teaching at Coaching classes, sowed the seeds of Growing Kids in 2011, thanks to her daughter. "My daughter has been the inspiration. When I had my daughter, I quit my job to ensure that the little girl's upbringing was steady and smooth. The dearth of quality pre-schools and day care centres, triggered the thought of starting something of my own. Thus, Growing Kids was born and its first student was ofcourse my daughter", explicated Ms. Hema.
Growing Kids was started at Ms. Bhatt's home and today it has expanded to a bigger space, housing 40 students and a support staff of 10, including teachers and caretakers. "I always liked teaching. Since my childhood days, I used to teach to earn pocket money, and today I think that wealth of experience which I garnered during my tender age has reaped sweet fruits, ofcourse in the form of Growing Kids", elucidated the founder.
Growing Kids offers Play Group, Nursery, Junior, and Senior to the tiny tots, and emphasizes on skill and value development. Ms. Hema added, "We strive to make each and every student independent. For instance, in our school, the students pack their own bags without seeking any help from either the teacher or the caretaker".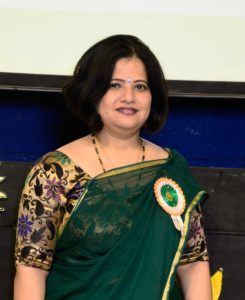 Ms. Hema Bhatt
The innovative Pre-school and Day Care centre of Thane has a unique style of teaching. "We don't enforce anything on the students. For example, when we teach them to write the alphabet 'A', it is purely taught as 'A', not like 'A' for 'Apple'. The reason for this is we do not want to block the free flowing imagination of our students, rather we want them to express themselves as freely as possible", averred Ms. Bhatt.
The calendar of the Pre-school is power packed with panoply of activities spread across the year. Close to 70 activities are organized every year, and every Growing Kid is showered with appreciation for his/her stellar effort in these activities. "The programmes that we conduct are hosted by our tiny tots. These children are groomed in such a way that public speaking no longer seems to be a Herculean task for them", stated Ms. Bhatt.
Growing Kids hosts state of the art facilities which includes but is not restricted to air- conditioned premises, CCTV cameras, bus facility on request, and library full of toys and books for the young minds.
In its ardent endeavour to produce leaders of tomorrow, Growing Kids is indisputably one of the best Pre-Schools in Thane, quietly making its way in Mumbai, courtesy its presence in Borivali.