DNYANASADHANA : TAKING EDUCATION TO MASSES
NIKHIL BALLAL/JUILI KULKARNI
American philosopher John Dewey quoted, "Education is not preparation for life; education is life itself". The illustrious journey of Satish Pradhan Dnyanasadhana College (SPDC) reflects clearly that this college is an ardent believer of Dewey's quote. Under the able aegis of Mr. Pradhan, the President of the college, the institute was established with the sole aim of imparting top-quality education and nurturing the young generation to make them smart citizens of tomorrow.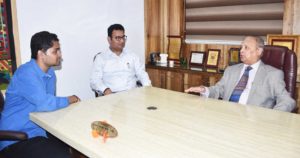 "Colleges in those days were sparse. To be precise, only Vidya Prasarak Mandal was on the horizon. Hence, thousands of students particularly from economically challenged families had to miss out on higher education. The founder of the college; Mr Satish Pradhan, was very much concerned about those thousands of youth who had talent as well as urge to learn but did not get the opportunity due to unforced circumstances. Having been the first citizen of Thane city, the onus of welfare of citizens and living up to their expectations made him start the Dnyansasdhana. The college has given some of the outstanding students who otherwise would have remained out of the education net had Dnyanasadhana would not have been there. The dynamic founder did not compromise on the quality despite all odds, tells Mr. Kamlesh.
SPDC as it is known today is a full-fledged college by nature and any student who wishes to reach the ultimate destination of Ph.D once he/she is out of the school can sit in the Dnyanasadhana car and drive from junior college to doctoral studies smoothly and comfortably.
A house to over 8500 students at any point of time, Satish Pradhan Dnyanasadhana College is one of the biggest and most sought after educational institutions in Thane district. Established on July 2, 1980, the college has travelled a long way to set its strong foothold in the field of education. The humble beginning made by the college in the early 1980s created a strong base for the institute to stand on its own toes today. "We thank the people who helped us then for making us what we are today. Late. Shri. Ram Deole, Late. Shri. Suresh Phanse and current Treasurer Shri. Satish Sheth have a lion's share in the success of the college", averred Mr. Kamlesh, the Secretary of SPDC.
The quality of an educational institution is determined by the quality of teachers it possesses. A teacher is considered to be the vital cog in the wheel of an educational institute. Just as a doctor is known to save a patient's life or in other words give a new life to a patient, similarly, teachers are the ones who are responsible for moulding lives of students. It is a well-known fact that students spend most of their impressionable age in schools/colleges and therefore it is important that they are exposed to good quality teachers. "We at Dnyanasadhana are proud to have 23 Doctorates (and 19 potential doctorates) in the teaching staff", exclaimed Mr. Kamlesh.
Being in existence for close to 40 years, the institute boasts of state of the art facilities like library, computer laboratories, science laboratories, spacious classrooms, auditorium, and of course advanced technology.
Swanking with an enormous collection of over 72900 books (approximately 18000 books in Marathi), the college library is filthy rich in terms of its extravagant collection of books. Such a library is a rare sight in today's time and age. In addition, the library is one of the biggest spaces in the institute and can comfortably accommodate around 270 people at a time. Separate sections in the library are made for teachers and students. Focussed books are kept in each of the sections, for example, in the students' section there will be books pertaining to the regular study work, competitive exam books etc., and in the teachers' section, there will be research centric books, and other high-level study material.
Started in the 20th century and now continuing to grow in the 21st century, SPDC has toiled to keep pace with the changing times. Be it the software-based attendance system for students and teachers, latest computer desktops in the computer laboratories, state of the art science laboratories, projectors, CCTV cameras, the institute has all of them. "In our attempt to make the citizens of tomorrow smart, it is necessary that we adopt the smart teaching and learning techniques by way of using PowerPoint presentations as a teaching tool in the classrooms", expressed Mr. Kamlesh. There are five computer laboratories (including as many as 252 computers) in the college, with each student getting a desktop of his own at a given time. "Earlier the desktops were provided on a twin sharing basis but from the last two years, we have increased the number of computers in the lab", affirmed Mr. Pradhan.
When the college was established in 1980s, it offered just the regular courses like BA (in Marathi), B.Com, and B.Sc.  After a decade, when the wave of industrial revolution swept the country, advanced courses like the self-financing courses were added to the college curriculum. BMS, BMM, BBI, B.Sc (IT), B.Sc (CS) etc. are some of the popular self-financing courses offered by the institute. "The perception of the students and parents is that a plain vanilla B.A. or a B.Com or B.Sc is not competitive, hence it is better to pursue a self-financing course that will give them a better chance in the job market", explained Mr. Kamlesh. The college also offers courses like BA (Film TV & New Media Production), M.Com (Management/ Advance Accountancy), M.Sc (Chemistry/ Botany), Ph.D in Commerce and Chemistry
Apart from the regular courses, SPDC offers Certificate (add-on) courses like Tally, DTP, Public Speaking, English Speaking, Web Designing, Photography, Cyber Law, Digital Marketing, Bridal make-up, and Travel & Tourism, to name a few, which help in the overall development of student. "In this fiercely competitive world of today, we endeavour to give a competitive edge to our students by way of these add-on courses", stated Dr. C.D.Marathe, Principal of SPDC.
Taking cognizance of one of the popular idioms of all times; "All work and no play makes Jack a dull boy", SPDC wants to produce Jacks who are bound by the four walls of the classroom, but at the same time free to go out on the playground or on a stage to express themselves and showcase their hidden talents. "A perfect mix of academics, sports, and other cultural activities is an essential pre-requisite of a student's overall personality development", felt Mr. Kamlesh Pradhan. Keeping this in mind, the institute organizes Annual Day, Sports meet, Literary meets, college festival that not only help students to get a feel of college life but also inadvertently develop their personality. The cherry on the cake is the presence of Art Circle that encourages students to showcase their talents at local, district, and state level. Many students from SPDC have represented the college at higher levels in various competitions and have won laurels.
"Under the able aegis of Dr. Dawood Dalvi, NSS (National Service Scheme) was started in our college in 1986. It was started with an aim to develop student's personality through community service. We conduct many diversified projects under NSS like tree plantation drives, teaching the underprivileged students of TMC schools, and rural development project. As a part of rural development, we select a village and conduct a camp which benefits the students of that village. In addition, our students studied the TMT bus routes and were instrumental in starting bus service from Thane station to SPDC", described Mr. Kamlesh.
In SPDC, NCC (National Cadet Corps) was started with the aim of developing character, comradeship, discipline, secular outlook, art of selfless service and the spirit of adventure among the students. Further, it aims at creating a pool of organized, trained and motivated youth with leadership qualities in all walks of life, who will serve the nation regardless of which career they choose. Needless to say, the NCC also provides an environment conducive to motivating young Indians to join the armed forces. "Our NCC girls-unit made us proud when they were selected to participate in Independence Day parade of our state", expressed Mr. Kamlesh.
As mentioned earlier, the college boasts of 18000 books in Marathi. This statistic exhibits college's affluence when it comes to Maharashtrian literature. "We conduct S.V. Kulkarni lecture series (in the memory of S.V. Kulkarni) every year. Many stalwarts have graced this lecture series and have interacted with students. Our students were blessed to have heard illustrious personalities like Dr. Y.D. Phadke, Shri. Daji Phanshikar, Shri. Sadanand Barve, Shri. MP Kumar Ketkar, Shri. Achyut Godbole, Dr. Neela Satyanarayan, Shri. Bharatkumar Raut, Dr. Anand Nadkarni, Dr. Anil Avchat, Dr. Vikas Amte, Shri. Arun Sadhu and Shri. Namdeo Dhasal", emphasized Mr. Pradhan.
In a country where there is a yawning gap between the rich and poor, the students studying in SPDC are not anomalies. "There are a few students who come from a humble background. These students sometimes find it difficult to pay college fees. Empathising with them, the college has an 'Earn and Learn' scheme specially designed for these students. Under this scheme, the students are required to perform a few college tasks like helping in the admission process, assisting the librarian, data entry etc. this scheme offers a two-way benefit; one, the students get money, and two, the college gets good help", described Mr. Kamlesh.
One of the important determinants of how good a college is defined by the kind of companies that visit the campus for placements. SPDC boasts of some of the big corporate giants like HDFC Bank, ICICI Bank, Accenture, TCS, Indian Express Group etc. Such a conducive placement scenario is a pull factor for the students to join the college.
"My entire team Shri. Satish Sheth (Treasurer), Adv. Anil Phanse, Mrs. Pratibha Pradhan, Shri. Shrikant Deole, Mrs. Mansi Pradhan, Dr. Kalpana Parhare, Shri. Sudhakar Chavan, Shri. Sameer Phanse and Shri. Shripad Oak are working relentlessly for the betterment of education and growth of SPDC and its students", claimed Mr. Kamlesh.
A full-fledged college with Certificate (add-on) courses, state of the art facilities, good placement culture, and a healthy relationship among the various stakeholders like Management, Teaching staff, Non-teaching staff, and of course the students, makes SPDC a standout performer among the hundreds of colleges in Thane district. Under the patronage of his father and well-wishers, Mr. Kamlesh Pradhan, an interior decorator by profession has unequivocally crafted and sculpted the careers of students of SPDC in a unique way.