Designing Destiny Brick by Brick!
He has designed some of the best buildings in our city. In fact few of them have become landmarks . The elevation aesthetics and innovations make them stand apart. Mr.Pravin Jadhav represents the promising young genre of
architects who are going to shape the future of Thane. In an interview with Nikhil Ballal he speaks about his passion and plans.
You have designed more than five crore sq.ft of real estate in Thane, with some of Thane's finest projects to your credit. How does it feel?
It gives me immense satisfaction to have succeeded in going beyond spatial needs, to cater to functional aspects and enhance the lives of people. Recently we completed our silver jubilee in the field of architecture. We are proud to uphold our philosophy of delivering quality design and soaring high in critical circumstances.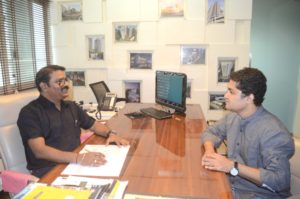 When did the idea of becoming an architect first hit you?
Actually it didn't hit me, it hit my father. My drawing skills impressed him enough to aim to make me an architect. Though he was a banker he had considerable knowledge about this vocation. I was once creating a painting of a country side sunset. The colour combinations I used left everyone awestruck. My father was reassured about his decision to make me a design man!
As I grew up, I got more serious and started researching the subject. I ultimately succeeded in entering the portals of one of the finest architecture colleges- Rachana Sansad.
How were the initial days of architecture?
As I hailed from Thane initially it was difficult to mingle with the townies. Speaking English and understanding the architectural jargon was a Herculean task. Attending classes with rich SOBO ( South Bombay) kids would unnerve me. One fine day I threw my hands up and told my father I wouldn't be able to continue. My parents instilled self-belief in me and motivated me to continue.
And then , the architecture curriculum threw me a lifeline – ISOMETRY. This subject boosted my confidence. I started completing drawings much before time, and before I knew it, I became popular in class and a favourite of my professors. Throughout the five of study, I was also employed with a professional architect. This gave me great exposure and practical knowledge.
I started my first job with senior architect Shashi Deshmukh. My salary was 1500 rupees then. College days were the golden days of my career as I met my life partner Jyoti, the real 'architect' of my life!
Why did you restrict yourself to Thane when you could have got better opportunities in Mumbai?
I always wanted to start my own practice. Mumbai would have definitely fetched me a better salary but it would have not allowed me the time and energy to explore my creativity. During my employment, I also started working on other designs. In those days, architecture followed a similar pattern all over Thane. Most buildings looked identical. One could hardly distinguish between developers and architects. I wanted to develop one building with a design that would become the talk of the town. No builder was ready to experiment.. Finally I met Amarsingh Thakur of Saptashree builders, who gave me a free hand.
What was unique about the design?
Cantilevered terraces at triple height was the main feature of this bldg. which was introduced for the first time in the city's architecture. Because of it's unique architecture even client could fetch more rate than the adjoining projects. GARIMA gave tremendous boost to my career & people started acknowledging our firm.
What were the major challenges in your life and how did you overcome them?
I started out doing a lot of liaisoning work, which incidentally, is not as easy as people think. It requires a lot study and research. One has to be fully aware of the latest and amended DC (Development Control) rules. During that period, I would start my day at 5am and end by 12 at night. However, my heart was always in design work. The turning point came when I happened to meet Commissioner Sanjay Sethi at a project launch, where some architects from Mumbai mesmerized everyone present, with a beautiful presentation.
I went up to the Commissioner with a tree-cutting proposal. He immediately asked me whether I was an architect? The developer intervened and said "No. He is only the liaisoning architect". The Commissioner told me, "You should learn from these Mumbai architects". Since then, I have refused hundreds of liaisoning projects. It took me six long years to prove myself. I incurred huge losses but my wife stood tall behind me in this difficult phase.
Which have been your special projects?
All my projects are special for me. But 'Garima' tops the chart. I got a chance to do all types of projects ranging from residential, commercial to public places. By God's grace every one of them has been successful. Each project has been unique in its own way. The first podium garden was developed by us at 'Girija' near Gokhale road.
I have experimented in every project. Among my residential projects, GIRIRAJ HEIGHTS at Hari Niwas circle is one of my best creations. Close observation will show that all the flats are lavish and spacious, and give you an unobstructed view of the lake city. It has become a landmark and you will find the Who's Who of Thane residing there. Initially, developers were not confident about selling such lavish flats. I gave them confidence, and the flats sold like hot cakes. The last flat went for Rs 20,000 per sq. ft.
Dosti Vihar at Vartak nagar is another special project. I have built one of the finest club houses and a beautiful podium garden spreading over one lakh sq. feet. Believe me it has shaped out really well. Rosa Bella is also one of my favourites.
Currently I am working on Rajtatva, a commercial project of Rajesh Life Spaces, on Ghodbunder road. We are also working on Sheth group's Avalon and Siddhi Group's Pride Palms. My designs are now taking shape in Mumbai as well. A 40- storeyed building in Worli with a swimming pool on the top will be the next talk of the town.
Among commercial projects, my landmark projects are Dev Corpora and Amber Arcade.
Who is your idol and what are your future plans?
My idol is F L Wright who created one of the finest pieces of architecture in the world, The Fallingwater House, a residence built over a waterfall, about 43 miles from Pittsburg, USA.
From the 60s to the 80's, Thane was dormant city. We are proud to have played our part in the metamorphosis of Thane into the most happening city in India, and the preferred choice of the new generation.
Looking ahead, I feel it is payback time. I owe my success to this city. Now I want to give back to Thane. My dream is to transform Thane into the best planned city of the world.