Cementing vision with Steel!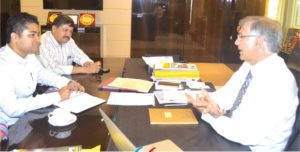 Among the select few that are recognized as 'Real Estate Brands', the Hiranandani group has set new benchmarks in construction design, technology and customer lifestyles.  In this conversation with Editor Nikhil Ballal, the founder Niranjan Hiranandani shares his story, his beliefs and his vision for Thane.
What were the events in your life that led to your entry into real estate development?
It was God's decision. After standing second in Mumbai University I was on cloud nine and decided to pursue my childhood dream of becoming a businessman. But my father had something else in mind. He took me to his friend Mr. Nani Palkhiwala who asked me to pursue Charter Accountancy. Very few people are aware of the fact that I am a qualified Charter Accountant!
Though no one in my family hails from the real estate business, I still wanted to become a developer. There is a reason behind it which I shall disclose later in my interview. When I cleared the CA exams, my father asked me to join our textile unit which frankly never interested me.  Within a few months, the workers at our unit went on strike. We couldn't meet their demands and eventually were compelled to shut down. The situation was becoming favourable for me to join real estate. Perhaps God also wanted me to become a developer. And finally I entered the world of construction.
What attracted you to the field of construction?
My father brought us up in the best of environments.  We lived in a good house in South Bombay, played in lush green gardens, studied at the best schools, and availed of the finest facilities. I dreamt of developing houses better than the one I resided in, gardens superior to the one that I played in, hospitals greater than I had seen and schools of quality higher than I had experienced.
Which was your first project and how was your experience?
My first project was at Versova. I always wanted to develop a water leakage- resistant building. Due to this clause no engineer was ready to take my job. I decided not to begin until I get the right person. As money was never my driving force I was ready to wait.  And the long wait finally paid off, when I met a person who assured me the desired quality.
We then started our endeavour to build the first leak- resistant building. While the project turned out well, I was still not satisfied. I had no issues with the construction quality, but I the view from the flats left me feeling disappointed. Our high quality building was surrounded by overflowing nullahs and bad roads congested with hawkers.
I asked myself , "Is this the house which I dreamt of developing?". The answer was an emphatic "No!" That was when I decided to build India's finest township where I could implement the idea 'Walk to work and walk-back home'.
Powai was then a deserted stretch of rock and forest.  How did you visualise your dream township in this area?
For the township I needed a huge block of land. During those days this land was comparatively cheap as it was not on the radar of any builder. When I bought this land, people ridiculed me for investing money in such an under-developed place. However, I was very confident about our quality standards, and I knew people will demand such quality one day. Initially it was a tough idea to sell and we incurred huge losses. But the joy of doing high quality work was such that the losses never demoralised me.
As our economy improved so did people's lifestyles.  More and more peole started approaching us. The rest is history. Today every Hiranandanian flaunts his address with pride and esteem!
Your next destination was Thane. What made you select a location outside Mumbai?
I disagreed with the perception of Thane as a 'sister city' of Mumbai. I always believed it had the potential to become an independent city in its own right. Wasn't I right? Thane is blessed with breathtaking natural beauty, beautiful lakes, the majestic Yeoor hills on one side, and the creek on the other. Instead of adding green to a township, I believed in constructing amidst the greenery. The tranquillity and serenity in these townships has made Hiranandani Meadows and Estate the top favourites among home seekers.
What are your plans for Thane?
Over the last century, Thane was a major industrial hub, providing gainful employment to thousands of workers. In the last decade, unfortunately many industries shut down or shifted to other locations, and lots of people lost their jobs. My future project aims to help Thane regain its place as a big employer. Software services exporter Tata Consultancy Services (TCS) is set to pick up over 2 million sq ft of built-to-suit space at Hiranandani Estate in Thane on lease. This is being billed as the largest single office space transaction in India in terms of area. It will employ around 27,000 people.
Considering the growing populace, we are also planning a big 140- bed multi -speciality hospital in our township.
What has been your major contribution in the sector of real estate?
Two aspects of enhancement of the real estate industry come to my mind. Firstly, the philosophy that goes beyond constructing millions of square feet of real estate, towards creation of a holistic lifestyle. Our integrated mixed-use townships set within miles of greenery are designed to serve a community of residents who work within the township. The second aspect is the use of the best construction technology to achieve a zero-defect product.
What has been your success formula?
One must learn to enjoy life. In my life's balance sheet my asset side is far more than the liability side. Perhaps I have the most profitable and positive life balance sheet. I don't regret anything in my life. My father has been my role model. He used to perform 80% surgeries free at Nair hospital. I followed his footsteps. Even today I devote 25% of my time to social work. I am involved with 17 colleges, serving more than 45,000 students, apart from two schools and three temples to my credit. We have also adopted eight poor schools.
Fortunately for me, my wife is not fond of diamonds or other luxuries. So we save enough money for these activities.  This social work has kept me so positive that it has improved my productivity.
In my business, I have a futuristic approach. We, at Hiranandani group have been pioneers in thought, belief and action. We have been aggressively pushing boundaries in not only property development but also each of those spheres that build a lifestyle.
Outside Thane, the developer is working on a commercial real estate project within GIFT city, Ahmedabad, and Hiranandani Fortune city at Panvel. They are also at the drawing board stage with new launches at Powai, Pune and Alibaug.  Of course, his immediate focus is on Hiranandani Parks at Oragadam at Chennai .