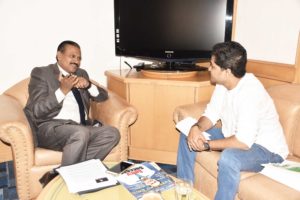 Nikhil Ballal
Seldom does anyone get an opportunity to head the institute which was once upon a time his or her alma mater. Prof. Dr. Uday Salunkhe, Group Director, WeSchool in that context is blessed as he presently heads the country`s prestigious  S.P. Mandali's Prin. L.N. Welingkar Institute of Management Development and Research (WeSchool), where he received the first lessons of management.
Coming from a non-academic background, Prof. Dr. Salunkhe had a burning desire to create a marvellous facility that would match the global standards. His zeal and hard work are the foundation stones of WeSchool. In fact, the story of WeSchool is thus a story of an engineer turned educationist. Both are inseparable from each other. Know Your Town tries to unravel the synonymity between the man and his impressive achievement.
What we see today in India`s one of the top ranking premier institution is the sum total of dedication, devotion and perspiration of Prof. Dr. Salunkhe who has literally made the best of the opportunity bestowed on him by the top management of the institute. Prin. L.N. Welingkar Institute of Management Development and Research came to be known as WeSchool is a testimony of the exemplary vision of Prof. Dr. Salunkhe with a belief in the spirit of team and not just an individual.
Sion Koliwada, an indiscreet station on Central Railway`s harbour line was the place where WeSchool was cradled. Known for various things and more prominently, shops for automobile spare parts and accessories; Koliwada was never known for an educational centre. Prof. Dr. Salunkhe was working as an engineer with Mahindra & Mahindra then. Until then, he was oblivious of management studies which had just made a foray into the educational world. It was only when he saw visible changes in one of his acquaintances who had undergone a management course, that he realized the tremendous potential and decided to take a serious interest in the subject.  Prof. Dr. Salunkhe after completing MMS program from S.P. Mandali's Welingkar Institute of Management took over an assignment with the team to do turnaround strategies of sick company and parallelly got an opportunity to teach at Saurashtra University. He jumped on to the opportunity as he always liked to experiment new things. One day, his alma mater Prin. L.N. Welingkar Institute of Management Development and Research asked him to join as a faculty. Prof. Dr. Salunkhe was delighted to join them. While teaching at Welingkar's Sion campus, he also continued his job as a consultant. He commenced his academic career and subsequently also completed PhD. He realised there was potential for a good management institute in Mumbai and switched his role completely from just an educator to edupreneur. He knew there were only a few good management institutes in Mumbai. A management institute like Welingkar in the heart of island city would have great future.
Today, WeSchool is one of the most sought-after management institutes among MBA aspirants. A lot of thinking has gone on this beautiful campus of WeSchool. Prof. Dr. Salunkhe has poured all his experience which he gathered after visiting international B-Schools. During those days, management programs and colleges were at an amateur stage in India. So, Prof. Dr. Salunkhe decided to visit the Mecca of MBA –Harvard Business School. He not only observed the curriculum but also the infrastructure and external programs which were taught in B-Schools. Today, it ranks among the top Business Schools in South Asia providing its students with the grooming and experience that can be benchmarked with the best in the world.
Prof. Dr. Salunkhe elaborates about the concept of three A's – acquisition, application and assimilation of knowledge. He believes that the acquisition of knowledge was classroom-centric in India (it still is in many cases) which does not make much sense. The way out is to broaden the horizon, and the very meaning of the classroom. It could be the market, society, theatre, music and the world at large. "To change the method of acquisition of knowledge, students need to get a sense of the new society and its role in the whole ecosystem," he says.
Following acquisition is the application of knowledge. Prof. Dr. Salunkhe recollected a quote, the essence of which is: "Education is what you remember after you have forgotten what you memorized." He elaborated on the application of what is learnt even beyond simulations and taking the students to the market to link the knowledge with the basic practices. During such activities, he said that the students' retention of knowledge is immense. Finally, we reach assimilation – not in the literal sense, but from the ethics and governance point of view. Prof. Dr. Salunkhe's message to the students for today is that – "Take charge of the future. Be active, not a passive observer in the world."
Prof. Dr. Salunkhe`s dictionary perhaps does not have a word called complacency. He got engaged in creating various development processes and programmes for the benefit of students. One such program was AOTS (Association for Overseas Technical Scholarship), a Japanese scholarship program. Prof. Dr. Salunkhe played a pivotal role in introducing this program in Mumbai at WeSchool.
"I wanted to prepare our students to match the international standards and we left no stone unturned to get the best. Our aim was that none of the students stepping out of the precincts of WeSchool must have any air of doubt or complex when they face the competition", stated Prof. Dr. Salunkhe. "That unfolded a new chapter in the history of the institute when its portals were opened to foreign universities. This strategy paid rich dividends to our students who were exposed to the global scenario sitting very much in their own country," quipped Prof. Dr. Salunkhe.
"For students to get interested, the faculty needs to be extremely creative about bringing in meaningful information and sharing how it connects to the world of work. This energy is usually contagious. Providing students with simple tasks to implement something they learned in class and asking them to come back next time or to experiment the concept in the class are ways in which the faculty can establish meaningful connections and foster self-belief within the students. Apart from content, how the faculty correlates with students of varied abilities to learn a subject and how they put in a special effort to care about the success of the student almost directly impacts the students' interest in the learning experience," says Prof. Dr. Salunkhe.
"The pressure of being judged by the brand that they work for, the package that they get is so high that making the decision to start small and grow big is quite startling for a young person. In this area, we have initiated two important steps at WeSchool. The first step is mentoring to set the expectations right and the second step is to familiarise them to the various opportunities and options that they may be unaware of. Perhaps that is the reason 33 start-ups rolled out from WeSchool campus in the past few years," says Prof. Dr. Salunkhe.
"The system of using marks to define the success and capabilities of a student is something we all have put together. It has its own merits and demerits. We need to focus on creating an equally strong learning environment that is rich with opportunities to experiment, to try and fail and accept that all routes will not lead to the desired outcome. The moment the environment creates such opportunities it allows them to experience success, fulfilment and a sense of accomplishment beyond the regular "marks method". One should also celebrate failure. Because failure is the only opportunity to begin again this time and more wisely," concludes, Dr. Salunkhe on a philosophical note.