A sporty affair! DECATHLON
JUILI KULKARNI
The answer to most of your sporting requirements can be found at no other place but Decathlon. A house to 50 sports that ranges from cycling to fishing, from swimming to mountaineering, from tennis to cricket, and many more. The French company has made a solid impression in the minds of Indian sports lovers. Unequivocally, Decathlon is the place where majority of the sporting freaks visit to fulfil their demand for quality sports equipment.
Bengaluru was blessed with the first Decathlon in India in 2009, and within a short span of eight years, Decathlon has spread its wings across India, which is evident from the fact that there are 60 huge houses that store sports goods to cater to the needs of sportsmen and sportswomen. The Thane store was the first one in MMR (Mumbai Metropolitan Region) region. Within no time, there was a need felt to open more stores, courtesy the tremendous response from the sports enthusiasts. There are five other stores in and around Mumbai.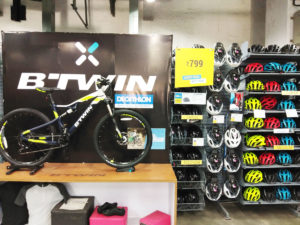 Being a French company, certain western sports like fishing, archery, golf etc. find a place in most of the Decathlon stores in India. However, the brand is known for its customer centric approach, and this is supported by the fact that Decathlon houses cricket kit under the banner of FLX to meet the needs of cricket crazy nation like India. The products at Decathlon are available at affordable prices, which again emphasizes the company's motto of encouraging sports among all; both white collared and blue collared.They also have two-year warranty on their products.
Decathlon is a "one stop shop", where people are exposed to not only top-quality goods but also expert advice from the respective sports person, who is a part of the staff. This is a brand which allows its customers to try the different equipment, and only when the customer is thoroughly convinced, the sale of product happens.
In a sports-loving country like India, there is seldom any doubt that a sport hasa special place in the hearts of people. The moment you enter Decathlon, it feels as if you have transcended to a different universe. The grey-haired people who come with their grandchildren become kids again and it is amazing to see the happiness on their faces. The atmosphere at the store is magical, which is complimented by the friendly staff. Decathlon is not just a house of sports goods but is a facilitator which encourages people to play games. They conduct monthly workshops for different games as well as form communities where like-minded people come together and live their sport.To sum it up, Decathlon is not just manufacturer and distributor of sports goods but an experience in itself.