A Decade of Dedication and Determination !
NIKHIL BALLAL/JUILI KULKARNI
Rabindranath Tagore once said, "Don't limit a child to your own learning, for he was born in another time". Anand Vishwa Gurukul (AVG), a product of Sharda Education Society (SES) is irrefutably one of the eminent schools in Thane and a living example of Tagore's words. Started in the year 2008 with just 40 students, AVG has come a long way to house 3500 students in a span of just 10 years. The seeds of AVG were sown much before 2008, when late Mr. Anand Dighe reached out to Mr. Pradeep Dhawal expressing his need to start a school in Thane. The institute is a tribute to Mr. Dighe and is rightly named in his honour.
Mr. Dhawal, Secretary of SES, was always fascinated with the ancient education system, i.e. the Gurukul system and wanted to incorporate the same in the new school. Riding on this fascination, Mr. Pradeep undertook thorough research on Gurukul system of education. He went to different places in India where Gurukul system is practised, which included going to Santiniketan, established by Rabindranath Tagore's father. Gathering information from various places, Mr. Dhawal was well-equipped to start AVG in Thane. The school is unconditionally supported by Mr. Eknath Shinde, PWD Minister, Government of Maharashtra. "Though AVG is backed by Mr. Shinde, it is rest assured that there is not even the slightest intervention of any politician or politics in general", affirmed Mr. Dhawal.
"A typical day at the day boarding school starts with a prayer, followed by academic sessions, and then a few hours of learning sports, vocal music, dance, foreign languages, among many", averred Mr. Vilas Thuse, Vice President of SES. He added, "In AVG, we have an EQ (Emotional Quotient) Centre looked after by Mr. Sandeep Kelkar, wherein the interests of the students are identified, and necessary training is provided to the pupils to hone their specific skills". Expert teachers in each of the fields are appointed to teach the myriad activities to the students. "An essential pre-requisite that we look for in a teacher is his/her passion for teaching, because we believe that the teachers are building blocks of any educational institute", proclaimed Mr. Dhawal. The students of AVG undergo training in a plethora of fields from standard three to eight. These five years play a pivotal role in shaping the child. "Parents are very happy with their child's progress as their children are exposed to academics as well as various other activities all under one roof", said Mr. Thuse.
"Standing strong by our principles of Gurukul system, everyday we provide healthy food to 500 students in Atithya, our cafeteria. Under the watchful eyes of a nutritionist, the food is served to the students", described Mr. Dhawal. In order to ensure good health of its students, regular medical check-ups are undertaken at AVG.
Apart from providing top quality education at the school level, AVG has indisputably done a phenomenal job at the college level too. "I feel proud to share with you that AVG is the only college in Thane to have a NCC Girls battalion", exclaimed Mr. Dhawal. Experienced teachers, guest lectures, state of the art infrastructure, celebrating the much awaited college days and festivals are also packaged in a single product of AVG College. The self-financing courses like BMS and BSc IT have a jaw dropping statistic of 80% girls in the class. The success of night-college is remarkable. "We gauged the pulse of the people around us and started with the night college for all those who have a dire need to pursue education along with their jobs".
Thoroughly, AVG is a treasure trove of education and extra-curricular activities, and inarguably an abode of total personality development. Being the first night college and second Law college of Thane district, Anand Vishwa Gurukul is unequivocally taking big strides to carve its name on the education skyline of Thane.
AVG: TAKING EDUCATION TO MASSES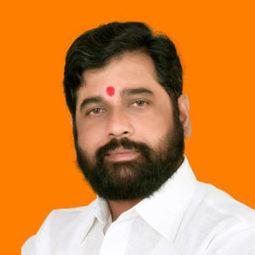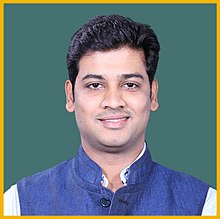 `With more and more schools giving quality education to children of Thane have been coming up,there is still need for good institutions to come ahead.Education is the fundamental right of the citizen and it has been our endeavor that not a single child remain deprived of it.Our mentor and source of inspiration late Dharmaveer  Anand Dighe Saheb had a penchant for education ,which was evident from the hundreds of parents flocking to his office at Tembhi naka to seek admission for their wards. Saheb used to see that all the children got admitted and for that he used to go an extra mile meeting the school authorities. Having seen our leader literally burning the midnight oil ,I  too dedicated myself for the very purpose. We have lived up to the confidence fostered in us by the common man,that admission will be done at any cost`,said Mr Eknath Shinde,the guardian minister of the district.
Anand Vishwa Gurukul,is an unique school which is inspired by the ideas of Late Dighe Saheb,`said Mr Shinde.`He was of the opinion that poverty or economic backwardness should not be come an obstacle  in the educational aspirations of any child.Although majority of the educational institutions in Thane have been doing a commendable job,there are few which indulge in mal practices and bring a bad name for their crass commercial attitude.AVG is miles away from this unethical behavior and has been successful in maintaining the purity of the field,`noted the guardian minister.
In AVG,we  see that best educational facilities are provided. Our students should not have any complex when they step out of the campus and face the world. Education should make them confident.They must be prepared to face the stiff challenges  and overcome the competition which has become inevitable. Apart from the education that is prescribed by the syllabus,our teachers are imbibing in students,the values that will make them better citizens.Normally knowledge is imparted in the schools,but at AVG we lay more emphasis on cultivating wisdom,`noted Dr Shrikant Shinde,the member of parliament.
Wagle Estate,the area where AVG is located is surrounded with a population coming from  lower income group.Although many of the parents there do not afford sending their students to English medium school,our AVG takes care of their unfulfilled desire.Although the medium is English,our management has taken care that the values in our culture too are taught.Hence celebrating Guru Pournima is  part of the yearly itinerary.The management and teachers are taking great pains and the school has been delivering excellent results year after year.
AVG with its uniqueness is already standing tall,I  only hope that it will shine like a bright star in the years to come. I once again congratulate  the management,the principal and the teachers for a meaningful decade of wonderful service.
—————————————————————————————————————————————–
गुरुकुलचे स्वप्न साकार झाले सुवर्णक्षरांनी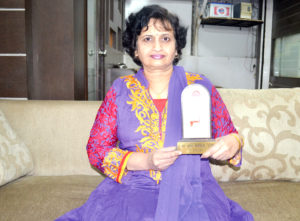 माझ्या प्रिय आनंद विश्‍व गुरुकुल च्या वर्धापन दिनी मनात जुन्या आठवणी दाटताहेत. आठवणींच्या हिंदोळ्यावर मन हळुवार झुलतय. अशी गुरुकुल शाळा व्हावी हे जागेपणी पाहिलेलं स्वप्न मला झोपू देत नव्हतं. हे स्वप्न पूर्णत्वाला न्यायच्या ध्यासाने तहानभूक हरपली होती. तन्वी हर्बल प्रोडक्ट्स उत्पादन तन्वी हर्बल नियोजन हा पसारा दिवसेंदिवस वाढत होता आणि पार्किन्सन्सपासून इन्फर्टिलिटी हार्ट ब्लॉकेजेस मुलांच्या उंची बुद्धीपासून केस व त्वचाविकारांपर्यंत सर्वच आरोग्यतक्रारीत पेशंट्सना मिळणार्‍या उत्तम गुणांमुळे परदेश वार्‍या देशांतर्गत व्यवसाय एकटीने समर्थपणे सांभाळताना आंतराष्ट्रीय प्रियदर्शिनी उद्योगश्रीपासून अनेक पुरस्कारांनी तन्वी हर्बल्सच्या माध्यमातून फ्री चेकअप देत आरोग्यसेवा हीच ईश्‍वरसेवा समजून मनोभावे काम करत होते त्यातही स्वतःचे छंद मनाला स्वस्थ बसू देत नाहीत हेच खरे.
दर वर्षी मे महिन्याच्या सुट्टीत मुलांचे छंदवर्ग घेतले. त्यांचा सुट्टीचा वेळ कारणी लागावा म्हणून चित्रकला हस्तकला कराटे योगासने विझिट टू बँक इन्शुरन्सची माहिती विविध व्यवसाय मार्गदर्शन करियर गायडन्स बरेच काही मुलांना छंदवर्गात शिकवत होते.
छंदवर्गासारखी गुरुकुल शाळा बनवायचीये जिथे शाळेतच जेवण ट्युशन कला क्रीडा नृत्य नाट्य आणि दर्जेदार शिक्षण एकाच ठिकाणी मिळेल आणि हि माझ्या आणि पालकांच्या स्वप्नातली शाळा असेल, अशी माझी इच्छा होती. तुळजाभवानी मंदिराच्या बाजूला भाड्याच्या जागेत ही शाळा होती. आणि मग माझ्या सासूबाई श्रीमती उषा मेहेंदळे यांच्या स्मृतिप्रीत्यर्थ नाव बदलून मेहेंदळे गुरुकुल विद्यालय असे शाळेचे नामकरण केले व बोर्डात त्याप्रमाणे नावबदल करून घेतला.
पालकांना गुरुकुल हि संकल्पना इतकी आवडली कि त्यांनी लगेच आपल्या मुलांना या शाळेत घालायचे नक्की केले आणि गुरुकुलाची पहिली बॅच सुरु.
2008 साली शाळेची इमारत असेल असा शब्द दिला होता. तो कसा पूर्ण करायचा हे माझ्यासमोर मोठे प्रश्‍नचिन्ह होते. ज्या जागा बघायचे त्यात काही ना काही खोट निघायची आणि नाकासमोर बघून चालणार्‍या माझ्यासारख्या अति प्रामाणिक व्यक्तीला चुकीची गोष्ट दडपून जागा घेणे पटायचे नाही. शाळा सर्वाना आवडतेय शाळेचे छान नावही होतंय पण शाळेची इमारत होईल या भरवशावर पालकांनी मुलांना शाळेत ठेवलाय. इमारत नाही झाली तर त्यांना तोंड कसे दाखवायचे हा प्रश्‍न होता. मी दिलेला शब्द मोडू शकत नाही मग आता जगायचे तरी कसे आणि जागा आणायची कुठून हा यक्षप्रश्‍न होता.
पालकमंत्री एकनाथ शिंदे यांनी ढवळ सर किंवा विलास ठुसे यापैकी एकाला फोन करा असे सांगितले होते. प्राध्यापक प्रदीप ढवळ सरांनी इतिहास घडवला. शाळेसाठी इमारत शोधणे ताबा घेणे. आनंद विश्‍व गुरूकुल असा नाम बदल करून घेणे शाळा नवीन इमारतीत स्थलांतरित करून शाळेचा विस्तार करणे अशी घोडदौड त्यांनी केली आणि न भूतो न भविष्यति असे शाळेचे उज्वल भविष्य त्यांनी घडवले .विलास ठुसे ज्ञानेश्‍वर गायकवाड सर्व पदाधिकार्‍यांची त्यांना मोलाची साथ लाभली. तन्वी हर्बल्स सारखेच गुरुकुल शाळा हे माझे अपत्यही आता खूप मोठे होत होते.
शाळेसाठी तर मी शिंदेसाहेबांची आजन्म ऋणी राहीन. आनंद दिघेसाहेबांना ठाण्यातील मुलांच्या अ‍ॅडमिशनची नेहेमीं काळजी असायची. म्हणून त्यांच्या स्मृतिप्रीत्यर्थ शिंदेसाहेबानी आनंद विश्‍व गुरूकुल हे यथार्थ नाव सुचवले. आता एस.एस.सी बोर्ड, सीबीएससी बोर्ड शाळा आहे ज्युनियर सिनियर कॉलेज आहे हे सर्व शिंदे साहेब, ढवळ सर आणि आमच्या शारदा एज्युकेशन टीमच्या सर्व सहकार्‍यांच्या अथक प्रयत्नांनी शक्य झाले आहे. वाळूचे कण रगडीता तेलही गळे अशी शर्थ केली आणि सुवर्णाक्षरात शाळेचा इतिहास लिहिला त्या शिंदेसाहेब तसेच तरूण तडफदार मार्गदर्शक डॉ. श्रीकांत शिंदे व ढवळ सर यांना शाळेची अध्यक्षा म्हणून मानाचा मुजरा आणि शाळेचे सर्व मुख्याध्यापक, प्राध्यापक, कर्मचारी, विद्यार्थी त्यांचे पालक या सर्वांचे शाळेच्या यशस्वी वाटचालीत मोलाचे सहकार्य केल्याबद्दल आभार मानते व अभिनंदन करते. अशीच संस्थेची उत्तरोत्तर सर्वच क्षेत्रात प्रगती होत राहो हीच ईश्‍वरचरणी प्रार्थना.
-मेधा मेहेंदळे
—————————————————————————————————————————————–
EXPLORING THE UNEXPLORED !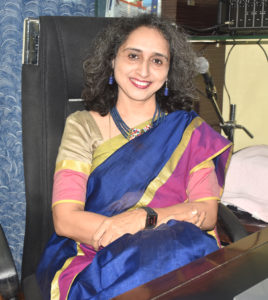 Dr. Seema Hardikar, Principal, Secondary and Junior College
Sharda Education Society's Anand Vishwa Gurukul is not just any other institute for me. In seven years of my tenure I could discover myself in a more diligent way as an administrator and could enrich myself with new experiences. One can feel great positive energy and learn to tackle new challenges by being with the students everyday.
I am very thankful to ever-supportive management for giving me the opportunity to serve this institution in the capacity of Principal of Secondary and Junior College section. We have completed a decade. Ever since it was taken over by our inspirer Hon. Eknathji Shinde sir, Guardian Minister of Thane, in the year 2008, every component at every level put hard efforts to take this school to heights and transform it into an educational grooming centre. This premise, which holds nearly 3000 students from Nursery to Degree College, has witnessed many ups and downs and has achieved reputation as a most disciplined educational centre in the vicinity. HSC and SSC results are 95% and above all through these years are the validation of our academic excellence.
Winning of Gold and Silver medals by our students at state and National Level sports have taken the glory of our institute at different level. A day boarding school, Anand Vishwa Gurukul hosts 500 students daily in its cafeteria "Atithya", which serves delicious balanced diet in the strict supervision of a nutritionist. Regular medical check-ups, educational excursions, teaching of Sanskrit literature, foreign languages like French and Japanese and many more activities make this educational temple a unique one. I congratulate our respected Management and staff members on this very special occasion of celebrating 10 years of this esteemed institution and witnessing excellent growth.
—————————————————————————————————————————————–
PRIORITY FOR QUALITY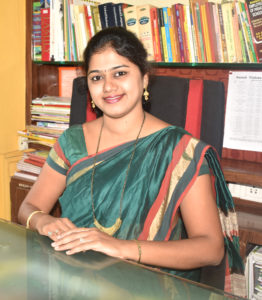 Mrs. Vaidehi Kolambkar, Principal, Primary & Pre-Primary
Standing in the wings, I think muse in wonderment, at how fourteen years have flown with which began my innings in Anand Vishwa Gurukul! Previously it was a bud but slowly and steadily it bloomed into a beautiful flower and with firm determination we moved forward with the aim of winning, not just one race, but many races.
The most challenging race was the see-saw of balancing academics, sports and co-curricular activities like Chess, Vocal Music, Casio, Tabla, Japanese, Abacus, among many. Though this was a daunting task, it was rewarding as it brought to the forefront the innate strength of each child.
This period of fourteen years has been a journey of great learning for me. As it is said, "One who dares to teach must never cease to learn." I learnt not only from my seniors and colleagues, but also from my students and parents, through continuous interactions.
The importance of education in the life of an individual cannot be overstated. It shapes the individuals in their formative years and imbibes in them values that would govern all their choices in life. It is said, "If you are planning for a year, sow rice; if you are planning for a decade, plant trees; if you are planning for lifetime, educate people." Indeed one can even say that the quality of education will determine the destiny of a nation.
My aim is not only to be an able administrator but also to be a friend, philosopher and guide to students.
—————————————————————————————————————————————–
Innovation : DSV's USP !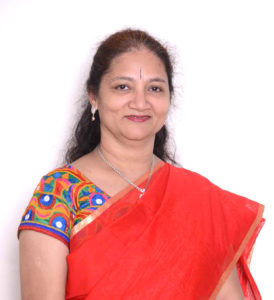 Mrs. Manjusha Ballal, Principal, DSV (CBSE) School
We believe that the path of success lies in accepting challenges as opportunities for growth. I am glad to witness that our vision is getting embodied with firm and excellent results over the time. My dear parents, it gives me immense pleasure to welcome you in the vast premises of DSV, a school of Sharda Education Society (SES). For all of us who stood with us in thick and thin, this is not a mere piece of land but a place where all our dreams come true. It is the soil which will help blossom our children. All these years we toiled very hard and the sincerity and consistency of my staff aided in realising our dreams.
Innovation and creativity are encouraged at DSV. The role of management has been a vital cog in DSV's wheel of success. In fact, the valued support of SES has been the source of encouragement. We strive to take academics, sports, and other activities to a higher level. We endeavour to make DSV a fountainhead of academic idealism. There is seldom any doubt that DSV is going to be the landmark of best educational opportunities. Thane is on its way of becoming a smart city. I assure you that DSV will create future smart citizens.
---
AVG's Law College: Raising the Bar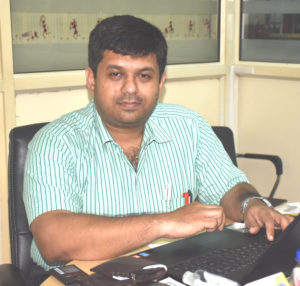 Prof. Suyash Pradhan, Principal Law College 
Anand Vishwa Gurukul College of Law aims to become one of the finest Law Schools of India, an institution, which will constantly strive to bring out the best from our students and give some of the finest lawyers to the society. For the last 2 years, we have been working hard to provide the maximum legal (theoretical as well as practical) knowledge to our students. Getting an opportunity to establish a Law College in Thane after 42 years, we have definitely done justice to the chance given to us. Our college has earned the goodwill of being one of the finest law colleges to impart quality legal education in and around Thane.
We have identified the needs and exposure that the Law students require and have trained our students to face the real life situations. In addition, we have also organized activities like Moot Court, Debate Competition, Court Visits, Jail Visits, Seminars and workshops, Para – Legal Training and provided umpteen opportunities to our students to interact with some of the finest lawyers in and around Thane.
We had eminent jurists like Hon. Justice Abhay Oka (Senior Judge, Bombay High Court), Hon. Shri. Shirke (Ex. Metropolitan Magistrate), Judge, among many to address our students. Interactions with such eminent personalities have definitely helped our students to nurture their thoughts to develop a deep understanding and interpretation of Law.
The Legal Aid Centre of our college has been working closely with the District Legal Services Authority, Thane and has been actively involved in various activities to create awareness about Legal Aid.
Our college intends to create a place where extensive legal research and quality legal education can be imparted to the students, so that they can pursue their career in legal practice or become legal scholars.
Over the years to come, I am sure we will find ourselves to be the finest institute for imparting legal education in India. Our perfect blend of theoretical and practical knowledge shall definitely help our students to excel in legal fraternity and produce finest of the lawyers from our institution.
—————————————————————————————————————————————–
HOLISTIC APPROACH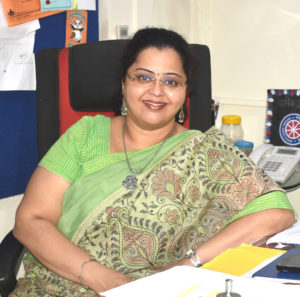 Harshala P. Likhite, Principal, AVG  Senior Night College
My association with this institution has been right from the time when the seed was sown to establish a school in Thane, to fulfill the dreams of our visionary Shri Anand Dighe Saheb. It has been an incredible journey from its inception to its fruition.
We began with few children and slowly and steadily we grew, branched and are reaping its fruits now. We then slowly sowed the seeds for Junior College. Its success made us to dig further and sow the seeds for senior night college to help those who are working and wish to pursue education. As Principal of senior night college, my mission is to transform students into rational thinkers, competent workers, law abiding citizens and spiritually enlightened individuals.  To achieve this, students are given various opportunities like projects, industrial visits, seminars, guest lectures, NSS, NCC, and paper presentation besides extra-curricular and co-curricular activities.
Our inspirer Hon. Shri Eknathji Shinde Saheb and Prof. Pradeep Dhawal-Secretary of Sharda Education Society are my backbone. It is because of Prof. Dhawal that the night college has grown. We have courses like BAF, BBI, BMS, B.com, Bsc.IT affiliated to University Mumbai. I am proud to be a part of such an institution which thinks big.